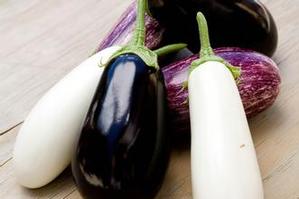 Ever wondered where the name eggplant comes from? The taste and texture have nothing to do with eggs, as I have tried to convince my egg-avoiding older son to no avail. Eggplants, in fact, originated in India where they were named after a common variety that is the colour, size and shape of a hen egg. A rare sight on our shores, we are far more familiar with the long, deep purple, teardrop-shaped specimens, which make for perfect buying now and for the next few months, as does the slender, pale, Japanese variety.
Those streaked with mauve, or the pea-shaped spheres used in Thai and Indonesian cooking plus beautiful milky white eggplants are often available especially at markets.
Eggplants are a delicious and very versatile vegetable, able to be fried, baked, grilled, stuffed, pureed or stewed.
Brush slices with extra-virgin olive oil before slapping on a searing hot grill then drizzle with a little fine balsamic - a superbly simple way to appreciate their texture and flavour.
Preparing eggplants by salting before cooking always seems to kick off a bit of debate - necessary or not? European recipes tend to make this a preliminary step while Asian recipes rarely do, making it all the more confusing. My belief is that it is not necessary especially if the eggplants are young and just-picked, though if you need to use up one or two that may be past their peak, slice, scatter with salt, leave for one hour then rinse and pat dry. This method also gets rid of extra water in the eggplant so less oil is soaked up during frying. Another thing to note - if you cut open an eggplant and find very hard seeds, it has been picked too late and the eggplant will need to be used in a recipe where it is cooked and pureed so the seeds can be sieved out.
Chef's tip
Whatever variety of eggplant you buy, look for those that are firm with smooth skin. Avoid those that have begun to shrivel as they may be bitter. Keep eggplants for a couple of days but, like all fresh produce, eat them as soon as possible.