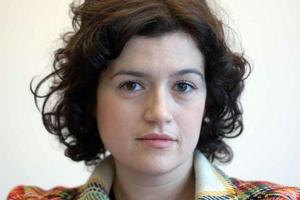 Dear Noelle,
I thoroughly enjoy listening to you on Radio New Zealand National when I get the chance. However, I stumbled on your blog on the Herald website, which was a pleasant surprise.
I was intrigued by your comment about Jeff Buckley. I'm wondering perhaps if that is where I am going wrong with my relationships. Is Jeff Buckley like some sort of relationship repellent? On second thoughts, I doubt Jeff is of any concern to my relationships - it doesn't seem to get to the "let's get to know each other's music taste" stage. Nonetheless, I'd love to hear your opinion.
Cheers,
Alexander
Dearest Alexander,
God, Jeff Buckley. Where to begin? We can begin with me at 19. Predictably naive, with a penchant for knee-high boots and short skirts, Rimmel Black Cherry lipstick and good-looking boys in flannel shirts.
So far, so textbook.
The boys in the flannel shirts came with their own soundtrack, of course. Circa 2000, it was The Pixies, mostly. Nirvana, certainly.
There was Leonard Cohen for wooing, and the wannabe-cerebral ones listened to Pavement in order to look smart.
The drinkers had the Stone Roses, there was Portishead and Leftfield for the ones who liked taking pills, and Nick Cave was the man they all wanted to be.
None of this was a bad thing, necessarily.
Like most girls (even the ones who won't admit it), I got most of my musical education from men.
I fell in love with my first proper boyfriend at the age of 16 when he played the opening chords of Boys Don't Cry for me on a borrowed guitar.
He was just the first of a succession of blokes to broaden my musical horizons.
The year after that, it was my best friend's dodgy older brother who gave me a Carl Cox mix-tape and snuck me past the bouncer at Sir Henrys, the only place you could hear proper house music in Cork City.
Then there was the poor fool who used to play Metallica Nothing Else Matters for me on piano, weeping as he played (he works with special-needs kids nowadays, incidentally), and the sweet drama student who would put on Pictures of You when we were in bed.
The Cure has a proven track record when it comes to wooing me, but Bob Dylan, The Smashing Pumpkins and DJ Shadow have all been used with success.
The point is, Alexander, that music hath charms. Every romance needs a soundtrack. Most men figure this out early on.
The singers of songs can say all of the things we'd like to be able to say in pursuit of the beloved, and so it makes sense to employ their talents when making the suit.
Music heightens the moment, and it also makes connections.
When you're in love, or even better, when you're on the cusp of falling in love, you're looking for signs.
Omens, portents, signifiers, anything that proves to you that the universe is conspiring to put you and this other person in each other's way for the sole purpose of living happily ever after.
What better proof can there be of this than the discovery that you both cry at Fake Plastic Trees?
To answer your question, then. I don't hate Jeff Buckley's music, you couldn't, it's beautiful. Back in 2000, in the Black Cherry days, when I heard the album Grace for the first time, it was impossible not to be moved by it.
I defy anyone to listen to Hallelujah for the first time and not weep. That song is the stuff of our humanity, which is probably what makes it such good leg-over material.
Oh yes, I have fallen victim to the Jeff Buckley approach, and I'm not too proud to admit it.
In fairness, it was 10 years ago, and I'm hardly a tough nut to crack.
Fake Plastic Trees worked on me, too. A decade later, though, and, hopefully, we've all moved on.
Any guy still using Hallelujah to put the ball in the back of the net deserves to be taken out and shot.
Ladies, I hope you keep a folded-up tenner in your wallet especially to pay the taxi-man should you be back at his a-wooing when Grace is put on.
I can't pretend to be an expert on the seduction music du jour, Alexander, so I'm hesitant as to what to recommend.
Ray La Montaigne maybe? Or some old-school Lloyd Cole?
But I do know that Jeff Buckley as a seduction tactic is over. It's a relic of the late 90s, like taking Ecstasy and thinking people who work for Google are cool.
Mark my words, my friend, you don't need Jeff. May I recommend learning the opening chords to Boys Don't Cry though. Or Smashing Pumpkins' Today? Worked on me every time!
Best of luck,
Noelle