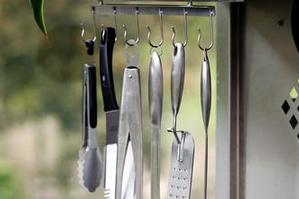 Nothing beats the smell of barbecues in the air. At last the evenings are warming up, bringing with them the promise of twilight gatherings with your nearest and dearest.
A barbie is the perfect apparatus for cooking all types of foods, and with flashier options arriving in the stores each summer, you can practically do without a kitchen altogether. Mind you, there are plenty of purists out there who reject gas and remain loyal to the classic Weber or a homemade barbecue.
Waiting for the kindling, firelighters, rosemary branches and manuka shavings to burn down and create a perfect fragrant base does have its rewards for the more patient outdoor cook.
The best thing about cooking on a barbecue is the fact that cooking is taken outside and becomes instantly more sociable.
So, what to cook? Vegetables, meats and fish - even whole chickens and the Christmas turkey if your barbie has a lid. Stonefruit is fantastic also, just remember to give the grill a good clean between courses!
Today, we start with delicate cheesy vegetable fritters - delicious with a squeeze of lime juice - then move on to fish and vegetable fritters scented with flavours of fresh bay and lemon before finishing with caveman style sticky chilli basted ribs. Utterly satisfying and irresistible!

CHEF'S TIP
Try using different types of skewers. Metal is good because it saves soaking and can be reused but you can also use rosemary stalks and trimmed thin lemon branches, which will add flavour to the food.