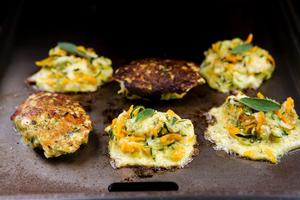 Serves 4
2 courgettes
1/2 cup grated pumpkin
2 eggs
1/2 cup ground almonds
100g havarti cheese, cut into small cubes
Salt and freshly ground black pepper
Olive oil for cooking
Fresh sage leaves
Limes to serve
1 Grate the courgettes into a bowl then stir in the pumpkin.
2 Lightly whisk the eggs and add to the vegetables with the almonds. Stir in the cheese and season.
3 Heat the hotplate on the barbecue. Brush with oil then pile spoonfuls of mixture. Top each fritter with a sage leave.
4 Cook for a minute before turning and repeating. Serve hot with a squeeze of lime.