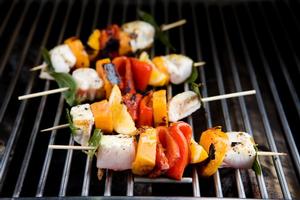 Serves 4
2 red peppers
2 orange kumara, peeled and sliced into rounds, halved if too large
3 fillets of hapuku or similar firm fish
Olive oil
Salt and freshly ground black pepper
12 fresh bay leaves
2 lemons, cut into 12 wedges
12 skewers
1 Char the whole peppers over an open flame while turning, until the skin is black all over. Place into a paper bag and close to let steam for 15 minutes. Peel off the skin, remove the core and seeds then slice.
2 Boil the kumara rounds until just tender then cool.
3 Slice the fish into pieces. Put into a bowl and toss with 1 tablespoon of olive oil, season.
4 If using wooden skewers, rosemary stalks or lemon branches soak in cold water for 30 minutes before using.
5 Thread the ingredients on to the skewers, alternating the bay leaves, fish, kumara, lemon and slices of pepper. Brush all over with olive oil before cooking on a hot plate for 10 minutes, turning once. Very good served with a little aioli on the side.