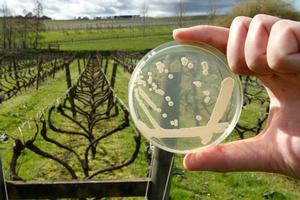 Winemakers could soon be able to produce New Zealand wines distinct from overseas vino, after the discovery of unique indigenous yeasts.
Auckland University scientists claim to have discovered almost 100 varieties of wine yeast from just one "spontaneous ferment" at a West Auckland winery.
Spontaneous fermentation relies on the yeasts that are naturally present in the grapes, rather than the addition of an imported commercial yeast known as Saccharomyces cerevisiae.
Lead researcher Matthew Goddard said forensic testing commonly used in criminal investigations helped the team to trace microbes present in the spontaneous fermentation yeasts back to local flowers, bark and soil.
Further testing found the microbes - none of which were similar to those in commercial yeasts - were likely dispersed around the area by insects such as honey bees.
Dr Goddard's findings - titled A distinct population of Saccharomyces cerevisiae in New Zealand - are published today in the online journal Environmental Microbiology.
Given yeast's influence on a wine's flavour, it was possible the new yeasts could be used to make New Zealand wines even more unique, he said.
At present, the risks involved in allowing wines to ferment spontaneously using wild local yeasts mean many winemakers choose to use imported single-strain industrial yeasts.
But more reliable yeasts may soon be available to New Zealand winemakers after Dr Goddard's earlier work isolating reliable local strains. These should combine the performance of cultured yeasts with the regional colour of the country's indigenous ones.
Dr Goddard is now investigating whether yeast populations also vary from region to region, with preliminary results suggesting it is possible. "Maybe the character of something like Central Otago pinot noir could in part be derived from its population of yeasts."
Previously, it was thought wines gained their distinct regional characters through the combination of grape variety, soil, site and climate, a concept the French describe as "terroir".
"Terroir was mostly thought of in terms of the geography and climatic conditions in which a variety is grown," Dr Goddard said.
"But I'm suggesting that there's another component of terroir: the diversity of microbes that reside in a particular region."
New Zealand wines may be picking up a little bit of French flavour as well. Dr Goddard's study also noted that barrels imported from France contain yeast strains likely to be from there.
- ADDITIONAL REPORTING: David Eames