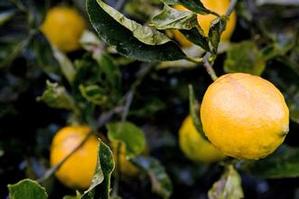 For the past few weeks everywhere I look around the neighbourhood, I see trees laden with gorgeous citrus fruits, often falling on the ground and laying dormant. Grapefruit especially seem to be under-appreciated, which I don't understand, especially after tasting this delicious icecream recipe - though I am the kind of person who guzzles glassfuls of the freshly squeezed fruit. The tart flavour may not be to everyone's liking but paired with egg yolks, sugar and cream then finished with a splash of vodka - what's not to like?
When using the zest of citrus, ensure the fruit is spray-free to enjoy the natural oils and a superior flavour. Lemons are pretty much available all year round but are at their best - meaning juiciest - now. They also grow, as does all citrus, very well in a large pot so lack of space is no preventative to having such an essentially tart addition to many dishes.
The scent and the taste of an orange lends itself to flavours of duck, crab, olives and mustard, vinaigrette, prawns and of course ... dark chocolate.
So much more than quarters at soccer half-time, oranges also make delicious marmalade which, when warmed with a splash of Cointreau, tops off today's cheesecake recipe beautifully.
"Waste not, want not" is a familiar adage I grew up with. So get chatting to those neighbours and you may be able to help out by picking up their fruit, offer a few bucks which works for both, then you can be rewarded with the freshest of fruit to squeeze into your glass each morning - or to incorporate into recipes like these:
Vanilla cheesecake with orange marmalade
Grapefruit icecream with vodka
CHEF'S TIP
To get the maximum vitamin boost from citrus - squeeze, zest or slice just before using.