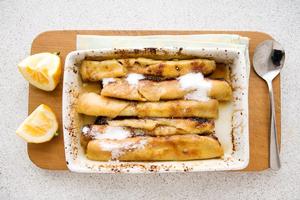 Serves 4
30g butter, plus extra for cooking
Pinch salt
1 cup milk
150g plain flour
2 eggs
Juice of two lemons
Caster sugar
1. Warm the butter with the salt and milk until the butter has melted.
2. Put the flour into a bowl and make a well. Add the eggs and using a whisk, work in a little flour at a time.
3. Add the warm milk and whisk until smooth. Refrigerate for an hour before cooking.
4. Heat a heavy frying pan and wipe with buttered paper. Ladle in some mixture and swirl to coat the pan. Cook for 1 minute then turn over and repeat. Transfer to a plate and continue.
5. Preheat the oven to 200C. Butter a baking dish. Roll the crepes up and pack into the dish then squeeze over the juice and sprinkle liberally with sugar. Bake for 10 minutes.
CHEF'S TIP
To get the maximum vitamin boost from citrus - squeeze, zest or slice just before using.