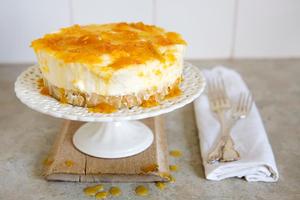 Serves 8
125g plain biscuits e.g. Superwine
100g butter, melted
3 pieces crystallised ginger, chopped
tsp ground cinnamon
1 Tbs gelatine
cup apple juice
400g cream cheese
1 Tsp vanilla extract
cup caster sugar
1 Tbs lemon juice
300ml cream, whipped
3 Tbs orange marmalade
Cointreau or orange juice
1. To make the base; break the biscuits into the bowl of a food processor and blend with the butter, ginger and cinnamon. Press into a 24cm springform tin and chill.
2. Sprinkle the gelatine over the juice in a saucepan and warm gently while stirring to dissolve. Let cool.
3. In the bowl of the food processor add the cream cheese, vanilla, sugar and lemon and process until smooth. Fold in the whipped cream and spoon over the base. Chill for at least 5 hours or overnight.
4. Before serving, warm the marmalade with just enough Cointreau or juice to loosen then spoon over the cheesecake.
CHEF'S TIP
To get the maximum vitamin boost from citrus - squeeze, zest or slice just before using.