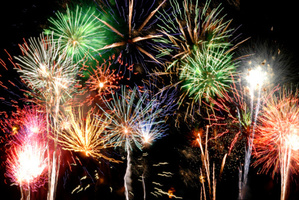 I'm not really into questioning the relevance of our observance of Guy Fawkes' day. So its roots are dubious and it's of diminishing significance to many New Zealanders. Some people level the same criticisms at Easter and Christmas but there's no credible campaign to undermine these celebrations.
It's the unpredictability of when Guy Fawkes is celebrated that bothers me. If there was just one night a year when you knew you had to stay home with your pets and steel yourself for interrupted sleep it wouldn't be such a problem. But animal lovers nationwide are as enthusiastic about Guy Fawkes as turkeys are about the 25th December - mainly because there's no telling exactly when it starts and when it ends.
My Havelock North-based mother, who worries about the effect of fireworks on her dog, said: "There's 'Blast in the Park' on Saturday so that'll be bad - and they'll let off a few crackers on Sunday, too. Then Monday's the fifth so that'll be big and they're bound to have some leftover for Tuesday.
So that's four nights of hell for us."
Most pet owners dread Guy Fawkes. The SPCA warns that loud noises and bright flashes are upsetting to animals.
Evidently cats and dogs have more sensitive hearing than humans so they experience significant distress from firecrackers. "Stay home with your pet," "Keep them indoors" and "Stable horses where possible" is just some of the sage advice from the SPCA.
Concerned about the response of my daughter's pony to the sound of distant firecrackers, I saw in 2012 standing with her in the middle of a paddock. It wasn't the most memorable way to celebrate the New Year.
The Fire Service has a catchy introduction to its safety hints for Guy Fawkes: "Have fun. Be safe. It's not rocket science." It also advises that: "Fireworks and alcohol/drugs are a dangerous combination".
Gosh, I'd thought that fireworks and alcohol/drugs were an obligatory combination. I don't think I've ever been to a teetotal bonfire night. I'm old enough to remember bangers, tom thumbs and skyrockets before they were outlawed. I'm still partial to the odd sparkler or two yet I've developed a negative attitude towards fireworks of the noisy variety.
We've spent many Christmas holidays on the Coromandel. The occupants of the house two doors along from us always vigorously celebrate New Year's Eve with the lighting of many firecrackers. They're so excited about this event that for the seven days preceding (and often a few days following) they also let off a round of crackers each night at about 10pm - much to the chagrin of neighbours who have put their children to bed and would prefer that their beach holiday was not accompanied by the soundtrack of explosions.
If retail sales of fireworks aren't going to be banned, and fireworks confined just to public displays like they are in the rest of the civilised world, then at least permission to set them off should be restricted to just one or two days annually: Guy Fawkes and (maybe) New Year's Eve. Restricting the days of sale without introducing similar limitations as to when they may be lit is pretty much pointless.
Debate on this article is now closed.