Swiss accounts holding Libyan petrodollars rumoured to be under control of leader's children.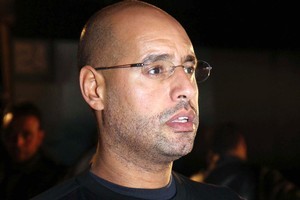 Geneva places a high premium on guarding secrets, but rumours are a different currency. Amid momentous scenes being played out across the Middle East last week, sources in the Swiss financial centre were privately gossiping about a visit to Geneva earlier this year by Farhat Bengdara, the Governor of the Central Bank of Libya.
According to one popular rumour, Bengdara had visited Geneva with a purpose. He was there to make changes to key Swiss accounts, into which flow hundreds of millions of dollars of Libyan oil money that are then allocated to the Libyan Investment Authority and the Libyan Central Bank.
Financiers in Geneva gossip that, as far back as January 17, Bengdara established that four new names would be added as signatories on three crucial accounts controlling much of the money. The signatories were Colonel Muammar Gaddafi; his son Khamis, who heads Libya's infamous martyrs' battalion; the Libyan leader's daughter Aisha; and his son Saif al-Islam.
Where Libya's petro-dollars may have been channelled in the weeks since tensions first erupted across the Arab world is hard to say. But those who know him would be surprised if Saif did not hold the answers.
The westernised 38-year-old, who studied at the London School of Economics and enjoys close friendships with senior British politicians and financiers, has become the focal point of the conflict now threatening to rip Libya apart.
Whereas Gaddafi senior has always been seen in the West as a dictator - albeit one brought back into the fold - Saif, a trained architect who established a medical charity and was considered his father's heir apparent, held out the promise of a new dawn.
As far back as 2002, Saif told an interviewer that Libya needed democracy. "It's policy number one for us. First thing democracy, second thing democracy, third thing democracy," Saif said, using a rhetorical technique he was to repeat last week to far more sinister effect.
With mercenaries flooding the streets of Libya's major cities and horrifying stories of murder and mayhem emerging in piecemeal fashion via social networking sites, despite a government-enforced news blackout, such a promise now looks spent.
Saif's desire to act as a mouthpiece for his father has lent the tragic scenes unfolding in Libya a surreal, sometimes ridiculous dimension. His appearances in front of the television cameras suggest a man increasingly unhinged. Arms folded, jaw firmly out, Saif is a manifestation of defiance. It is clear he is very much his father's son. A man who reportedly likes to keep tigers and falcons, "Saif is urbane, charming and psychotic", according to one person who has met him. This appraisal seemed to be confirmed late last month when Saif appeared on domestic television to threaten a civil war in which his father's regime "will fight to the last minute, until the last bullet".
Days later he was on CNN promising that the violence in his country would make Libya "stronger, more united". Saif pledged: "Libya will have a better future as one united nation. [We will] not let a bunch of terrorists control our country and our future."
Displaying a hubris that is likely to be replayed in video clips for years to come, Saif boasted that his family had a "Plan A, Plan B and Plan C".
But all of the plans, it transpired, were the same: "To live and die in Libya."
These were the desperate fulminations of a man whose options were increasingly limited. And it was all a far cry from 2008 when, having collected his doctorate from the LSE, Saif pledged to donate £1.5 million to the university to fund a global governance unit. "I've come to know Saif as someone who looks to democracy, civil society and deep liberal values for the core of his inspiration," Professor David Held, a political theorist at the LSE, said at the time.
Last week, while the university was reconsidering its links to Saif as a "matter of urgency", Held too was reappraising his former pupil.
"My support for Saif al-Islam Gaddafi was always conditional on him resolving the dilemma that he faced in a progressive and democratic direction," Held said. "His commitment to transforming his country has been overwhelmed by the crisis he finds himself in. He tragically, but fatefully, made the wrong judgment."
Whether others, however, will be quick to break their ties remains to be seen. Saif's connections extend into the City of London and Westminster.
Saif is an acquaintance of Lord Mandelson and met the former Labour minister at a Corfu villa the week before it was announced that the Lockerbie bomber, Abdelbaset al-Megrahi, would be released from a Scottish prison. The two men met again as guests at Lord Rothschild's mansion in Buckinghamshire .
Rothschild's son and heir, Nat, also a close friend of Mandelson, held a party in New York attended by Saif in 2008. Saif in turn invited Nat Rothschild to his 37th birthday party in Montenegro, where the financier is investing in a luxury resort.
Prince Andrew, too, has played host to Saif at Buckingham Palace and Windsor Castle and the two men have also met in Tripoli. Others whom Saif classes as good friends include Tony Blair and, bizarrely, the late Austrian far-right leader, Jorg Haider.
At the end of last week, after hundreds are believed to have died and Saif's credibility in the West evaporated, the man whose name means "Sword of Islam" in Arabic appeared delusional.
"Everything is calm," Saif told a group of foreign journalists who had been invited to the Libyan capital.
"If you hear fireworks, don't mistake it for shooting," Saif added, smiling as he greeted the press outside a luxury hotel. But the calm was unnatural. It was the quiet of empty streets that would normally be bustling on a Friday night.
Saif insisted that much of the reporting was "lies" spread by a hostile media and denied claims his father's forces had bombed civilians. "We are laughing at these reports," he said, urging reporters to interview "hundreds or thousands" of people for themselves.
"The biggest problem is the hostile media campaigns against us. They want to show Libya is burning, that there is a big revolution here," he said. "You are wrong. We are united. Peace is coming back to our country."
A few miles away the thousands of desperate migrant workers besieging Tripoli airport, kept out by police using batons and whips, told a different story.
Saif al-Islam Gaddafi
* The 38-year-old is Colonel Muammar Gaddafi's second son.
* He is a fluent English speaker with a MBA from Vienna University in 2000 and PhD from the London School of Economics in 2008.
* He counts Prince Andrew, Tony Blair, Peter Mandelson and Nat Rothschild as friends.
* Has been described in the western media as the Western-friendly face of Libya and symbol of its hopes for reform and openness. In an interview in 2002 he said democracy was "policy number one for us. First thing democracy, second thing democracy, third thing democracy".
* He helped lead talks with Western governments that in the past 10 years saw Libya renounce nuclear weapons and end decades of isolation as a foe of the West.
* Much of his influence was wielded through his position as the head of the Gaddafi International Charity and Development Foundation, which he launched in 1997. Late last year the charity said it was withdrawing from politics and his post of chairman was being made into an honorary role.
- OBSERVER