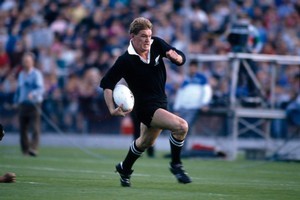 John Kirwan had no trouble digesting his evening meal at Okara Park in Whangarei. He had been in strong form all year and that continued in the All Black trial on May 9.
But there were a number of anxious stomachs at the televised function when the 26 players chosen to represent New Zealand at the inaugural global competition were revealed.
Lock Brent Anderson was the only Probables side player to miss the cut and many struggled with his omission, in such a harsh public environment.
A week later, the All Blacks were in camp at the Poenamo Hotel on Auckland's North Shore, getting ready for their domestic rugby tour.
Day one did not start well when captain Andy Dalton strained his hamstring, which kept him out of the entire tournament.
But six weeks later the All Blacks were the champions, all their players were lauded for their work and none more so than Kirwan, who expanded his impressive reputation, which earned him player of the year.
"The thing that amazes me when we started, we did not think this was going to become so big. We were unsure how important it would become in world rugby - but by the end, it was a massive success which had grown and grown," he recalls.
"For me it was the dawn of a new era. From that day on, rugby has dropped into a four-year cycle. My biggest dream growing up was going on a Grand Slam tour for three months, but now that pales ... They complete those now in four weeks and everyone talks about World Cups," he says. "The All Blacks are judged because they have not been able to emulate what we did 24 years ago."
Kirwan made many friends in that tournament, players such as Gavin Hastings, of Scotland, and Welshman Jonathan Davies he still sees during his globetrotting rugby duties. He runs into teammates like Sean Fitzpatrick every six months or so and says they carry on as if they had never parted. Craig Green lives nearby in Italy and Kirwan helped celebrate his 50th recently.
Kirwan is always asked about that try he scored against Italy in the 1987 Cup's opening game.
"It is turning out to be as famous as the try Gareth Edwards scored for the Barbarians against the All Blacks. It came about as a result of me getting my training spot on and having a go. I got the ball from Foxy and had a crack.
"What I really remember is how well Michael Jones played in that test. Wow."
During his rugby development as a player, manager, then national coach of Italy and Japan, Kirwan has been able to consider the game's shifts from those boisterous days in 1987.
He is in no doubt about the World Cup benefits.
"I think they grow the game, they are a massive event with extensive broadcasting which helps promote the sport," he says. "I would love to get back to some of the old traditions like tours and playing the old rivals, but I also love the World Cups.
"Fitzy was a great leader during my time with the All Blacks and has gone on to do that off the field too."
The great winger admits his interest in rugby waned after he was dropped from the All Blacks.
"Then Christian Cullen brought me back to rugby.
"I didn't know him at all, but I thought he was an incredibly talented, exciting rugby player."
When he reflects on the initial World Cup, Kirwan recalls the heat the All Blacks were under. Throughout the sport's history, it had been assumed the All Blacks were the best team in the world, but they never had a stage to claim that tag outright.
When they got the chance in 1987, Kirwan and his buddies knew there was crushing expectation to salute the work of their predecessors. Failure would undermine that golden legacy.
"When we got going we had all the motivation and drive to take out the prize.
"We had a squad full of great players, we were coached and managed with great class - and we were ruthless."
The record
Beat Fiji: 74-13
Beat Argentina: 46-15
Quarter-final: beat Scotland 30-3
Semifinal: beat Wales 49-6
Final: beat France 29-9

1987
Video: Great World Cup moments - 1987
In the beginning: Remembering our last victory drink
How we won: The All Blacks - Getting the nation back into black
Setting the scene: Long road to global rugby supremacy
A sending off that made Wallaby history
All Black memories: 'Dawn of a new era'
Tournament star: Michael Jones - Keeping up with Jones
Tournament action: Fans' lukewarm start fast turned to fervour
1991
Video: Great World Cup moments - 1991
How we won: The Wallabies - Defeats led to success
Aussie's winning mindset
'Beaten by a better team'
Tournament action: Fitter, faster England level the playing field
After long string of wins it was a bridge too far
Tournament star: David Campese - Campo's golden touch