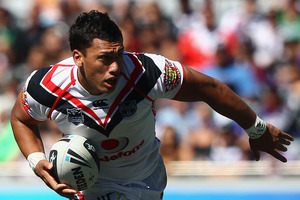 Phil Gould sees Elijah Taylor at the forefront of the ongoing Penrith revolution - but doubts any more Warriors will follow him to West Sydney.
A member of the Warriors' inaugural Toyota Cup side in 2008, Taylor was a local product made good. He won awards during almost every season at the club, had grand final experience, set new standards with his attitude and commitment and is renowned as one of the hardest trainers at the club.
"He is the kind of player that we are trying to build our club around," Gould told the Herald on Sunday. "Ivan Cleary knew him well and indicated his potential leadership qualities, while his football talents are obvious. We want players who have their best football in front of them, are self-starters, have leadership qualities and are self-motivated; Elijah easily fits into that category."
At Penrith, Taylor will have what one insider described as "unprecedented opportunities" to develop his life outside football, especially in the massive community and development programmes the Panthers are constructing.
"When I met Elijah and talked about his personal goals for the future, both football and post-career, it fitted in well with what we are doing in our community here at Penrith," says Gould, who has been general manager at Penrith since 2011. "We have 9000 junior players here - it's a massive pool."
Taylor's recruitment continues a trend of Kiwis being brought to the foot of the Blue Mountains by Cleary. Lewis Brown and others such as Dean Whare, Mose Masoe, Sika Manu and Matt Robinson have made the journey west in recent times.
"There hasn't been a concerted effort [to sign New Zealanders]," claims Gould. "They just happened to be a) the players that were available and b) fitted in with what we were doing. However, we were also mindful that nearly 50 per cent of our junior league registrations now were of Polynesian heritage and it is important for the club to reflect that."
There has been talk in league circles that the Panthers have other Mt Smart targets in their notebook, with West Sydney native Feleti Mateo of particular interest, as he is off contract at the end of this season.
"I wouldn't think so, not at this stage," says Gould, when asked if Penrith will sign more Warriors. "We are pretty much done with our recruitment. We will focus on retention now. We have put a lot of time into our junior teams, and our NYC teams are improving, and we need to lock up those players."
Gould and Penrith are at the frontier of a war for sporting hearts and minds, with all football codes pumping resources into the region. The Western Sydney Wanderers have been spectacularly successful in their first A-League season, regularly drawing large crowds and are top of the table. The AFL expansion into the area was spearheaded by the Greater Western Sydney Giants in 2012 (with Israel Folau in tow), while the Waratahs are attempting to build a greater following in the area.
"Our catchment area is bigger in size than Brisbane," says Gould. "Our population will soon be greater than Brisbane, too. We also have the largest Australian indigenous population in our backyard, so we want to make sure they are represented. In this area, league is used as a platform for corporate and government to engage, so the role of the profile player is very important."
After Gould joined in 2011, one of his first signings was Cleary.
"I needed someone I knew well, who could develop talent and get the job done," says Gould. "After six years, the Warriors ended up in three grand finals on one day [in 2011] - that takes great patience and resilience. He was with me at the Roosters when we did the same thing in 2004. I also needed someone who had a reputation that could withstand the knocks from a couple of down years before things turned around."
Gould and Cleary have made some tough calls, including a clearout of big-name players such as Luke Lewis, Michael Jennings and Michael Gordon. They finished second-to-last in 2012 but had an encouraging win over the Raiders in round one and face the Tigers today.
"I trust the intelligence of our fans and they see the bigger picture," says Gould. "Every change we have made has been in the best long-term interests of the club and I think the fans understand that. Some of the decisions have been hard to understand from the outside but overall they have been accepted. We will ultimately be judged on the performance of our NRL side but we have some much greater issues to address."