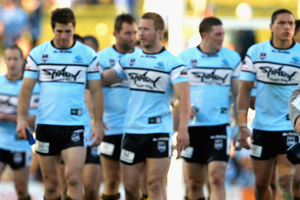 The embattled Cronulla NRL club is facing claims of alleged under-the-table payments to players in breach of the salary cap.
Fairfax Media reports the club recently cut ties with E Group Security, which was a sponsor and provided security to the club, and replaced it with another firm.
Fairfax says it has been alleged the company - run by former rugby league player Sami Chamoun - helped to top up money for star players outside the salary cap.
It says Cronulla advised the NRL's salary cap auditor, who is investigating the claims.
In a separate development in the Australian Sport Anti-Doping Authority investigation of the Sharks, News Limited reports that Cronulla sacked four coaching staff members and suspended coach Shane Flanagan because they did not reveal allegations some players were injected with drugs used on horses.
It says chairman Damian Irvine alleged his football club staff had not notified the board about the claims of drug use which date back to 2011.
It says one of the drugs is believed to be TV-500, a substance used on horses to increase muscle growth, strength and endurance.
The reports by both news organisations appeared as the Sharks prepared for their NRL season opener on Sunday evening against Gold Coast.

-AAP