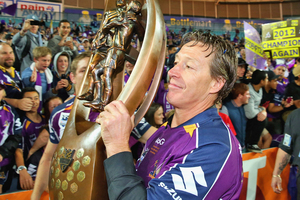 Craig Bellamy's manager John Fordham has refused to close the door on the Melbourne premiership-winning coach heading to New Zealand to take charge of the Warriors from the 2014 NRL season.
Fordham met with Bellamy this week to discuss the Storm coach's future, with his current deal expiring at the end of 2013.
"We've already had a discussion this week in Sydney. There's no hurry because he's got another year to go," Fordham told AAP.
"It would be fair to say there are options for Craig when he concludes his current contract in 2013."
Asked if one of those options was in New Zealand Fordham said:
"Those matters are private. All I'm saying is he's coaching at Melbourne in 2013 and he hasn't committed to any club beyond 2013 at this stage," he said.
"He's going overseas next week for two weeks, so there's no decision on what he will be doing beyond seeing out his current contract at the end of 2013."
It was reported by News Limited that Bellamy knocked back an offer for a multi-million dollar deal to join the Warriors who wanted him to start in 2013.
"The Warriors have got a coach vacancy from next year. Well, Craig is not available next year," Fordham said.
"You can't reject something you can't do."
The news from the Bellamy camp came after Warriors chief executive Wayne Scurrah on Wednesday declined to comment on reports claiming the coach would join the 2011 grand finalists after honouring the final year of his Storm contract, during which time the Auckland club would hire a caretaker coach.
Scurrah said the naming of a replacement for coach Brian McClennan, who was axed in August, was imminent with the appointment to be revealed "within the next week".
The Warriors have been in the hunt for a coach since dumping the former Kiwi Test mentor less than a year into a two-year contract
It followed a disastrous campaign that saw the club miss the finals and finish third-last on the ladder.
A number of names have been linked with the position, including Bellamy's Melbourne assistant David Kidwell, ex-Penrith and Canberra mentor Matthew Elliott and Australian Test coach Tim Sheens, who was axed by Wests Tigers last month.
Tony Iro, who was the Warriors caretaker coach after McClennan was sacked, is interested in keeping the role and said he was still waiting to hear from Scurrah.
"I've gone through the interview process like some other coaches and we'll wait and see. The story changes every 24 hours," Iro said.
Melbourne fullback Billy Slater said he had no idea what Bellamy's plans for the future were.
"He's there next year and we never look too far down the track as a club," Slater said before Kangaroos training in Townsville on Wednesday.
Kidwell was previously seen as a frontrunner for the job, but withdrew amid speculation he was unhappy with the amount of time available to prepare for the 2013 season.
- AAP