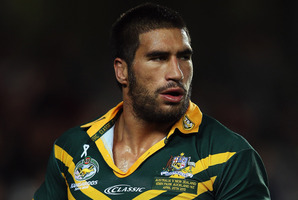 Money doesn't talk, Bob Dylan once said, it swears. Right now, there must be a lot of cussing going on in professional sport - several branches of which are amply illustrating that it is money that is the cold heart of sport these days.
Sad, but true.
No one minds athletes or even sporting bodies making truckloads of money but it is depressing when top sport is ruled quite so despotically by the almighty dollar.
There's been loads of examples this week - New Zealand's own Jeff Crowe, match referee at the West Indies-Australia cricket test, ordered the teams off the field after a power cut.
That wasn't for player safety or anything like that. The power cut meant the television cameras could not operate and Crowe pulled the teams off the field of play because of fears that, if the test proceeded, West Indian cricket authorities would have been in breach of contract with The Great God TV.
Then there was the case of James Tamou - the Maori who lined up with the Kangaroos when they faced the haka by the Kiwis at Friday night's league test.
Tamou stands to earn $50,000 over three State of Origin matches as opposed to about $9000 if he had played for New Zealand in a test.
There is an argument that Tamou's decision was not just about money.
Many in league regard Origin as the pinnacle of the game and, if Tamou had played for the Kiwis, he would have been ineligible. Under 10,000 googoos for playing for your country - surely the pinnacle of any sport - but more than five times that amount for playing in an event which means virtually nothing to anyone outside Australia and New Zealand and, having said that, not much to many in this country.
But it does attract huge TV and advertising revenue for the sport. If you really want to look at how badly money has penetrated sport (and I mean that in all senses of the word), just take a look at the Bahrain Grand Prix this weekend.
Why is F1 and its cranky supremo, Bernie Ecclestone, holding a grand prix in a strife-torn country where the Shiite majority are protesting against the rule of the Sunni royal family? Answer: money. F1 gets its palm greased for bringing the circus to town.
Why do the Bahraini authorities want the grand prix there when protests against it are threatening safety, lives, equilibrium? Well, it is money - but you could easily question the contention of one econometric study that the previous Bahrain grand prix (in 2010) brought US$500 million into the economy.
The 2011 event was cancelled after Bahrain entered the period of unrest that has gripped several Middle Eastern countries. Econometric studies are vague at best and, the cynical attest, fiction at worst. Most are unverifiable - but governments and sporting bodies love them because they showcase an easily understood benefit to holding major events.
We in the media are also to blame because we love them too. They provide an easy heading and no one checks the basis for such weighty pronouncements.
We've all seen them. Yes, the stories say, it will cost $200m to host the Global Cup of Wonder - but it will bring $300m into the economy. Uh huh.
While US$500m is not to be sneezed at by Bahrain (if it's true), its rulers have a broader objective. That's why they are withstanding the protests and violence, with dissenters carrying placards that read "Freedom, Not Formula" and "We are human without rights" - and who see F1 as shoring up the Sunni rulers against the downtrodden Shiite majority.
Bahrain sees hosting glam teams such as Mercedes and Red Bull, McLaren and Ferrari as a signal to investors and businesses round the world that the country is open for business.
Since the beginning of last year, Bahrain's stock index has dropped about 20 per cent and economic growth has slowed alarmingly as it tries to pitch itself as a finance hub, rivalling neighbours Dubai. So the stakes are large.
If there is unrest, violence and maybe even more deaths to add to the 35 that Shiite groups say occurred last year under continuing repression, it will hit Bahrain hard - and F1 could even be the catalyst for disorder and maybe even deaths.
For what? Doesn't seem to have a lot to do with sport, does it? You can't tell me that the 1.2 million people in Bahrain (about half of whom are expatriate workers) are thirsty for F1 racing.
No, it's all about money. Ecclestone quelled any revolt among F1 teams leery about safety by hinting that any team could elect to give Bahrain a swerve - but would have to pay enormously punitive amounts of money under their F1 agreements. They all turned up. Keep politics out of sport? Naaah, keep hands out of wallets.
This weekend also saw the beginning of the last Hamilton V8 Supercars event. The bosses of the Australian-based concern have been hunting for a new venue and are wooing central and local government and anyone that can pay them their $2 million fee to hold the event.
Hamilton's hosting eventually cost nearly $40m and caused all sorts of uproar and upset among ratepayers. One prominent head rolled.
Now the V8 people have their snouts if not in the public trough, then sniffing the air around it. If they don't get their $2m, they'll be off to court someone else.
It's not about sport, the track or the fans ...
There's no reason why the public purse should not support the V8s; there is a big motor racing community in this country and public money funds things like the Rugby World Cup.
But can we really claim that V8 Supercars are worth two million smackers from taxpayers for a series that essentially captures the interest only of Australians and New Zealanders? Where will this be seen overseas and how will it reward us with tourism, investment and burgeoning funds? That one will take a bit of swallowing.
Whoops, I can feel another econometric study on the way.