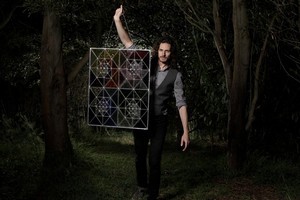 Belgian-born Australian indie pop artist Gotye (you say it like "Gaultier"), whose real name is Wally De Backer, is much loved in Australia. His 2006 sophomore album Like Drawing Blood was No 11 in Triple J's Hottest 100 Australian Albums of All Time, but 2011 was the first year he entered mainstream New Zealand consciousness. The release of his third album Making Mirrors pricked the ears of many, but it was hit single Somebody That I Used to Know that really opened the floodgates. The song, which features Kiwi "It Girl" Kimbra, held the No 1 chart spot for six weeks here, has gone three times platinum, and the artful video has had over 37 million YouTube hits.
It was actually one of the songs De Backer struggled with most, nearly leaving it uncompleted, unable to figure out what was missing from the structure.
"It took me some time to work out that it needed a female part, and then took finding Kimbra to realise there was a vocalist who could make the female part really something special, to have the kind of dynamic and the intense moment that it needed."
It's certainly taken the hearts of many new fans, and has led to some pretty surreal live experiences for De Backer. For instance, when his sound guy Stu measured the audience noise during his set at Splendour in the Grass festival last July, it was loud enough to rival a jet engine, which is quite a feat given how quiet Somebody is.
"At one stage in a louder song, when the audience were comparatively quieter, he clocked them at about 100 decibels or something, which is roughly the limit that he was meant to keep the desk at" De Backer laughs. "And then during Somebody, the levels very easily went up to over 110 db, just the audience, so they were actually quite literally drowning out the whole PA system."
It's not the only song fans should be listening for when De Backer is here next week though. His repertoire is diverse, his talents versatile, and the songs range from deeply funky to storming anthems.
He actually began recording sounds for anthemic early single Eyes Wide Open when he was on tour with his other band The Basics in 2008, discovering a "musical fence" in the Outback.
"We were doing a sort of rural workshop tour in Queensland, going to schools and indigenous communities, and we ended up in Winton on a weekend stopover. I hadn't heard of the Winton Musical Fence before, but I was quite fascinated by it, and luckily enough I had a little sampling recorder with me and I took to it with much gusto."
The opening and recurring three-note riff was made by the ringing fence. It's a genesis that sits quite nicely with the contemplative environmental slant of the song, which combines a sort of call to arms with a sense of nihilism and triumph.
His songs aren't all serious and angst-driven though: State of the Art, another album highlight, is a brilliant, grooving, tongue-in-cheek ode to an old Lowrey Cotillion organ (a gift from his parents), and all its amazing idiosyncratic sounds which De Backer fell in love with.
"I ended up envisioning old guys in their workshops still holding onto that piece of technology from decades ago which represented some kind of vision of the future for them, and I think that kind of comes across in the peculiar modulated vocal of this guy, who's singing this funny song about trying to convince his family and his neighbours how amazing this organ is."
The image of a family huddled around a keyboard for an evening's "state of the art" entertainment may seem quaint these days, but it's a delightful notion, and demonstrates the joy De Backer (a self-confessed audio nerd, producing and engineering his own records) finds in simply sharing sounds.
The Laneway Festival will be his first New Zealand performance, and we can look forward to hearing the often multi-layered songs fleshed out by a five-piece band.
"That's guitar, bass, drums, and me and another guy doing sort of the samply triggery things with electronic instruments. There's also lots of animations that I've commissioned that are a large part of the show."
The set will be pretty up-tempo - the experience of many festival performances in the past 12 months has taught him that quieter more introspective songs can be a bit of a challenge.
"I would love to play Bronte for example, but being a festival it just doesn't really work ... Somebody is also a challenge because it's also a very soft introspective song and there's no obvious meaty sub kick drums, or bass, or up-tempo loud rock elements, but hopefully the familiarity with it will get that song over the line, even though the subtleties of it can be quite difficult to put across through a festival PA."
There's no definitive word on whether Kimbra (who is playing at the Big Day Out) will be joining De Backer on stage, but he isn't ruling it out.
"I'm not really sure whether she'll be able to be there, I'm not gonna say one way or another ... she might be keen to join me there to perform to the hometown crowd. [Either way] when we perform it live, it kinda becomes this celebration for the crowd, rather than necessarily a drama between the two of us.
"And for a festival that's great, it becomes very inclusive."
You can bet it will be one of the loudest sing-alongs on the day.
Kimbra on Somebody That I Used To Know
"I've just been overwhelmed by it. I guess when we were doing that song, I really liked it, I could tell it had that emotional guts thing that he does really well, but I didn't expect it to do as well as it did. I was like 'yeah cool, it'll be a great ballad on the album', and then 'yeah, woah!'
"First of all it's been awesome to be a part of it, and work with Wally, but also really encouraging, even just as an observation, that a song like that can get to number one, you know, make it past all the Black Eyed Peas or whatever. It's a song that has a real musical complexity, and really interesting lyrical observations and it's really encouraging that people want to hear honest music on the radio. So it feels really cool to be a part of a track that maybe is a bit of a 'power to the indie music scene' or something."
LOWDOWN
What: Chart-topping pop balladeer
Where and when: Cherry Lane Stage, 9.30pm
Listen to: Making Mirrors (2011)
-TimeOut