An Emerald City might have kicked off Laneway in the sun this week but the Auckland band has been holed up in a Berlin studio working on their latest slab of instrumental art-rock. Cathrin Schaer reports.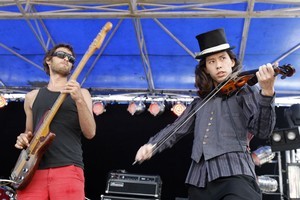 As the van gets closer to the studio, it looks a lot like An Emerald City have been recording in a jail. A magnificent, imposing, Soviet-era prison in the middle of a snowy nowhere - but a jail nonetheless. It's a forbidding brick castle surrounded by half-demolished buildings, snow and ice. You half expect to hear a wolf howling somewhere in the distance. Crikey, there's even a guardhouse at the entrance, complete with uniformed functionary who controls guests with an old-fashioned traffic barrier arm and a questioning glare.
"It was tricky the first couple of days," admits the band's guitarist Reuben Bonner. "We were meant to have some sort of pass and we didn't. Also, we have pretty minimal German. But," he laughs, "we've developed a rapport." It's true. The band have been recording their second album here, inappropriately named The Fourth (for reasons which will become clear later), for three days already and the grim-faced chap, who seems like a throwback to the Berlin Wall Checkpoint Charlie, just cracks a smile, raises the barrier and lets the scruffy New Zealanders drive through.
Like so many of the government-owned buildings left to rot after the fall of the Wall, the Funkhaus is huge, with the four buildings covering over four hectares. And no, it's not called this because it's funky - "funk" means radio or wireless in German. The complex was once the headquarters of the Deutscher Demokratischer Rundfunk, East Germany's national radio station. Designed by architect Franz Ehrlich in 1951, the station employed an estimated 3500 people and broadcast from here from 1956 until the Wall fell. The East German secret police, the Stasi, probably had offices here too, there was even a jail cell and there could have been nuclear shelters, according to Ed East, the owner of the small but perfectly formed studio where An Emerald City is recording.
East has been operating his studio - the motto is "high-end recordings at indie prices" - for three years now. And his is one of a whole corridor's worth of recording studios, that were once used for radio plays, news broadcasts, and film soundtracks.
"When I first came here it looked as though everybody had just downed tools and walked out of the place. There are about 20 or 30 studios on this floor and a lot of them had been trashed by vandals, all the windows were smashed. It was just a really, really cool, crazy, atmospheric place," enthuses East.
In another wing of the complex there's the legendary Studio 1, with a symphony orchestra-friendly 250 seats where world famous conductor Daniel Barenboim has recorded. The larger, pricier Planet Roc has been used by the likes of Sting and the Black Eyed Peas - the reason for the poster-sized pictures of Sting and Fergie at Funkhaus' main entrance - and 80 per cent of those hiring the studios are from outside of Germany. In another wing of rehearsal spaces, you can walk seemingly endless corridors through wafts of cigarette smoke and walls of sound, all drifting from behind practise room doors - everything from Beatles covers to bad German hip-hop to somebody practising opera.
"And you can see the abandoned amusement park over the river too," adds keyboard player Sam Handley. "This whole place feels like it's in a dream, with a dash of nightmare," he laughs. "Like David Lynch meets the Shining, produced by Marty Funkhouser from Curb Your Enthusiasm."
Back in Studio East now it is warm and cosy. And An Emerald City is at work. This consists of five days spent recording different instruments' parts, then sitting around and working out where intriguing noises like the "acid curtains" sound from the synthesiser should be hung. And An Emerald City's music has definitely evolved since their first album Circa Scaria, released in 2009.
Contrary to expectations, the band who recorded their first album in the Whatipu Caves on Auckland's west coast, and who have performed in white face paint, masks and capes, don't float around the studio in robes and sandals. For one thing, it's far too cold; it's snowing outside. For another, they are not hippies. In fact, they're horrified at the tag "hippie music". They don't think that including an occasional sitar makes it world music. And they're not sure it's exactly "psych rock" either.
The one thing they are certain of is that they're trying to do something different. And there is no doubt, even at this early stage, that the new
An Emerald City's performance at Laneway was a festival highlight.
In der Berlin funk bunker songs are more distinctly constructed. Rather than 10-minute jams, the new tracks feature hypnotic rhythms, spacey keys and dirtier, altogether more erotic bass lines.
Some of these compositional changes have come out of necessity. This is An Emerald City's second sojourn in Berlin but a series of misadventures - family issues meant three of the six-man band's members either did not return to Germany at all, or left earlier than expected, plus a promised distribution deal and several tour dates that fell through - meant that at one stage, there were only three band members left, sharing one apartment in order to save on rent.
"It was make or break," Bonner says.
It also meant that songs were composed differently. Israeli drummer Dan Katz, who moved to Berlin after studying music in Amsterdam, has joined the group as has bass player Jess Roth, originally from the US. "It just feels like there's a lot more space in the songs too - possibly because we haven't been able to jam as a full band," Handley offers.
And then of course, rather appropriately, there's the krautrock factor - that being the name that the British press gave to a genre of experimental music coming out of Germany from the late 60s. "It started with a bit of an obsession with Jean Michel Jarre," Handley explains, "and then getting into synthesisers, then groups like Tangerine Dream."
New Zealander Dino Karlis, former drummer with the likes of HDU and Dimmer, who now lives in Berlin, also played with the group while they were auditioning new drummers. "And he introduced us to bands like Neu!, Cluster, Harmonia, all that sort of stuff," Handley explains.
"We really just came to Berlin because we liked the idea of living here. And then we discovered the krautrock thing and it felt a bit like it was meant to be. We have been exploring the genre and finding it really inspiring, incorporating some of that feeling into our writing this year," Handley notes.
"But we wouldn't profess to be playing krautrock," percussionist Rob Croft adds. "It was just nice to stumble upon some musical history we might not have come across otherwise."
A long summer in Berlin has provided plenty of other influences too. During their time here they have supported groups like Texas' The Black Angels and Vancouver's Black Mountain, both best described as psychedelic rock bands. In fact, one of the highlights of the summer, Bonner says, was playing with Black Mountain at Loppen, one of the oldest musical venues in the controversial Copenhagen district of Christiania, home to anarchists and drug dealers and with its own special city bylaws. "Like playing to a full house in a Viking hall," Bonner recalls.
And the name of the album - The Fourth - is a result of the friends' growing interest - part serious, part humorous - in physics, space travel and the possibility of other dimensions. It's also one of the songs on the album.
And it also, more mundanely, refers to the fact that they were living together on the fourth floor of an apartment building while writing the album.
Although the album is "not a tribute to Berlin," Croft says, "it's been facilitated by Berlin, in the way we have written the music and the way we have bounced ideas around. Just being in a city that is teeming with young, creative types and where there are so many spaces to explore, it feels like a great adventure."
"Berlin is possibly the easiest place for musicians to live," adds new drummer Dan Katz, whose professionalism in the recording studio is much praised by the New Zealanders. "People here are so open- minded and if something did effect this music, it's the story of Berlin and the people that you meet here."
"It's true," Croft muses, "there's no way that we would have written what we have written somewhere else."
By the end of the day's recording that statement becomes even truer. East asks the band if they'd like to include a small memento of their time in the studio at the tail end of one of the tracks. During previous explorations of the derelict radio headquarters, he found a handful of reel-to-reel tapes of historical news broadcasts that had been left behind. The band ooh and ah and are only too pleased to include such exotica.
Which means that even on the other side of the world, New Zealand fans will get to hear a solid souvenir of this group's Berlin summer: at the end of The Fourth, there is now a former East German newsreader making a politically dubious announcement about a Cold War nuclear treaty.
LOWDOWN
Who: Emerald City
What album: The Fourth, out Feb 28
Playing: Te Awanga Community Hall tonight; With The Checks - Yot Club, Raglan, Feb 17; Brewers Bar, Mt Maunganui, Feb 18; PBC Gisborne, Feb 19; Salut, Whangarei, Feb 24, Waihi Beach Hotel, Feb 25; Leigh Sawmill Cafe, Feb 26; Live, New Plymouth March 3; Winchester, Auckland, March 10; Ellen Melville Hall, Mar 12; Altitude, Hamilton, Mar 18; Cabana Napier, Mar 19
-TimeOut