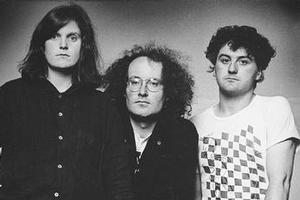 Few bands were able to whip up a sonic live racket like the 3Ds - and throughout the 90s in New Zealand they were rivalled for intensity only by the likes of Shihad and Bailter Space.
But what set the Dunedin quartet apart was their ability to blend raucous melodic pop and twisted rock chaos to create hell-raising tunes like Outer Space (the wailing opener off 1992 debut Hellzapoppin'), and the equally ear-splitting Hey Seuss off second album The Venus Trail. And with songs like Beautiful Things, sung by bass player and keyboardist Denise Roughan, they could be sweet and deliciously spooky too.
"I always wondered how we came across live and whether we were too odd," wonders guitarist and singer David Saunders now that the band have reformed after more than 12 years apart.
Together with fellow singer-guitarist David Mitchell, he shared the majority of the songwriting duties, with Roughan contributing some songs, and the line-up topped off by drummer Dominic Stones.
Saunders is right: musically the 3Ds were a little odd, and lyrically they were unhinged ("in outer space, without a face, I have no place," hollered Saunders on Outer Space), which only added to the intrigue of the band.
"Quite often we would intentionally make the song ... you know, David Mitchell would try and make a guitar line that would make people sick," remembers Saunders with a chuckle. "He still blows me away every time I see him play guitar - as long as he's not pointing it at me. We were trying to make it a little odd, we were trying to make music that was not necessarily pop song, more like an anti pop song. But at the same time using the same sounds that are usually associated with pop."
The 3Ds got back together in July last year to play their first shows since disbanding in 1997. The occasion was the 20th anniversary of Merge Records, a label formed by Mac McCaughan and Laura Ballance of American indie band and 3Ds' contemporaries, Superchunk, which released The Venus Trail overseas in 1996.
Saunders reckons the band never really split up, and it was more of a case of Mitchell and Roughan wanting to live in London - where they formed a dark pop monster known as Ghost Club. He also believes they probably needed a break after 10 years of playing together, and around this time their local label Flying Nun was also in a lull.
"It just took us 12 years to get back together I suppose," says the man who admits he's been "pretty lazy" in the music making department in the last decade. "It was really exciting to play again. A real buzz. It was 12 years since we'd played - and all been in the same room together," says Saunders, still sounding a little in awe. "We had three practices and then played the shows. Some of it was quite difficult, because we were playing together so often back then that we were pushing our capabilities, and to jump back into it, it was quite strange how physically hard it was. But it was just like a bit of rust really," he laughs again.
The band's first show in New Zealand is at Monday's Laneway Festival at Britomart, and later in February they play Wellington, Christchurch, and, Dunedin, the town where it all started in May 1988.
They were all friends back then, playing in different bands, and got together through a common love of making pop rock mayhem.
"We were all practically neighbours in Dunedin. Gosh, it was such a great time," remembers Saunders. "We were pretty much playing music all the time. That's what we did."
It was mostly the two guitarists who came to practices armed with song ideas, but Saunders says all four of them jamming in the practice room was the key to songs being fully realised.
"There were times when we hated practices because there would be so many ideas that we'd forget them. There are millions of 3Ds songs that never got made into 3Ds songs."
It didn't take long for the band to make an impact and following Hellzapoppin', which reached No 4 on the album charts, the 3Ds popularity took off.
They supported Nirvana in 1992; were hand-picked by U2 to open for them on the Zoo TV Tour; and they also supported influential indie acts like Pavement and Guided By Voices.
"We were surprised how quickly it exploded. I remember when we were asked to play U2 and thinking, 'What have we done?'. We just got a phone call from the promoter that their bass player [Adam Clayton] had been listening to our album and wanted us to play with them. It sounded good at the time but when you're standing up on the stage at Western Springs it was a bit different.
"But I think when we played with Nirvana, that was the show where the audience kinda got us. That was great playing to 3000 people who were already fans."
Then came The Venus Trail which took their popularity to the next level and they took off on overseas jaunts to the US and Britain. Saunders vividly remembers arriving at the venue they were playing in London and there was a line around the block to get in.
"We'd sold it out. It blew me away and we did so well but the thing is we didn't follow it up [in Britain]. We spent more time in America."
If Hellzapoppin was the raw and fiery debut then The Venus Trail was a more refined and accomplished album and Saunders believes it was when they were at the top of their game.
"And by then we were good at creating almost like a story with our live sets to give it some depth and colour. Like a musical sort of story. Well, that's what we were trying to do."
Which should make for one noisy story on Monday.
Lowdown
Who: The 3Ds
Formed: Dunedin, 1988. Disbanded 1997
Reformed: July 2009
Line up: (main photo clockwise from top left) Denise Roughan (bass, keyboards, vocals), Dave Mitchell (guitar, vocals), Dominic Stones (drums), David Saunders (guitar, vocals)
Albums: Hellzapopin' (1992); The Venus Trail (1993); Strange News From the Angels (1996)
Where & when: Laneway Festival, Britomart, Monday, 7.30pm, Red Bull Live Stage