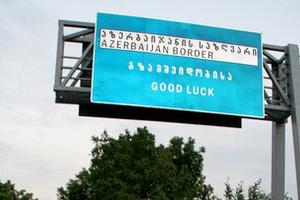 There are many advantages of growing up in New Zealand. One of them, I always thought, was that we understand the world.
Whether watching a movie, surfing the net or reading a fortune cookie, everyone seems to speak our language. English, people now say, is the world's second language.
This, I thought, was wonderful. Not only could I understand the lyrics of cheesy Swedish pop songs, I knew that regardless of how little attention I paid in French class at school, wherever I went in the world people would understand me (or at least my cries for help, apologies and insults).
Just this morning, as an unapologetically reckless cyclist almost knocked me off my bike on a Helsinki road, I had the satisfaction of knowing he understood the first thing that came into my head (it rhymes with "banker", but is less offensive since the credit crunch).
It wasn't until I actually began travelling, that the downsides of growing up with a global language as my mother tongue became apparent.
Most obvious - contrary to what I thought while at school - was that people seemed to enjoy the opportunity to speak in a foreign tongue.
I realised that by relying on everyone else's ability to talk to me in English, I was missing out on the fun of communicating in another language.
If speaking other languages is fun, then the north of Europe is a non-stop party.
The number of languages Scandinavians, Germans and the Dutch speak is beyond impressive, it's nauseating.
My modest abilities with foreign languages, developed with enthusiasm after leaving school, were no longer a source of pride, but inadequacy.
Once, while chatting to some Germans, I even heard myself shamefully quoting the Haka and various New Zealand place names to demonstrate my supposed ability to speak Maori (the girls were very impressed, but after a quick conversation in their mother tongue remembered that they both had to leave the bar).
In Finland, most kids learn Finnish, Swedish and English. They are assisted by exposure to a world of multi-lingual media. (For example, along with free local newspapers in English, rather than dubbing over global TV shows like The Simpsons, they are played in English with Finnish subtitles.)
With the area of the brain devoted to language already fit and well developed, it seems to me Finns can pick up additional languages as easily as they put down shots of vodka.
Finns also have the advantage that, unlike native English speakers, they know that when they are abroad, it is most unlikely that anyone will understand their private conversations.
This is partly because only six million people in the world speak Finnish, but also because, as far as languages go, it's very unique.
Roughly half the world's population - and the vast majority of Europeans - speak, as their mother tongue, one of the Indo-European family of languages.
Finnish is from an entirely different language group, called the Uralic family. It modifies the forms of nouns, adjectives, pronouns, numerals and verbs, depending on the word's roles in a sentence.
So rather than the cute little prepositions and prefixes that we are so used to, the majority of Finnish words are cumbersome looking compounds.
For example, if you want to try to get in the Guinness Book of World Records, in Finnish you can construct a useful word like epäjärjestelmällistyttämättömyydellänsäkäänköhän, which apparently means "doubting: not even with his/her ability to not make a thing unsystematic".
This means that for speakers of the Indo-European languages like English, Finnish is perhaps the most difficult language to learn of any using the Roman alphabet.
I am often told that unless you learn it as a child, no matter how long you live in Finland you will never be able to speak it like a native.
It was these fascinating aspects to the language that prompted me, when I arrived in Finland, to not even attempt to properly learn Finnish.
Because my girlfriend, her family and most of her friends are all part of the Swedish speaking minority, I decided to study that instead (also influencing my decision is that Swedish is perhaps the easiest language for an English speaker to learn).
Of course, in a primarily Finnish speaking country where almost everyone speaks English, I don't get the chance to practise Swedish very often.
It's not only easier to simply speak English when the person you're speaking to speaks five languages fluently, it's also less embarrassing.
Basically the only time I am entirely comfortable and confident in conversation is when I am talking privately with a Swedish speaking dog (it's a smart dog).
I guess one could argue that it's like anything in life - the more effort you put in, the more enjoyment you get out.
I don't think native English speakers are lazier than other cultures; we just aren't forced to put the effort in.
And of course, I know that many New Zealanders speak Maori and many other languages just as well as Finns do.
Harold Williams for example, born in Auckland in 1876, could apparently hold a conversation with a human in 58 different languages (I couldn't find any statistics on how many he could talk to animals in). It is said that he learned as many as 26 languages just by reading translations of the New Testament.
In 1900 Williams left NZ and travelled to Europe where, amongst other things, he reported on the Russian Revolution, hung out with Tolstoy and Trotsky, and learned to speak Finnish (presumably using it to help write his reports on the Finnish Civil War in 1917).
It is possible that Williams knew that although English and Finnish have little in common, Maori and Finnish actually do: They both share a claim to the world's longest word.
I'd like to think Williams may have even once used Taumatawhakatangihangakoauauotamateaturipukakapiki-maungahoronukupokaiwhenuakitanatahu* and epäjärjestelmällistyttämättömyydellänsäkäänköhän in the same sentence.
* Taumatawhakatangihangakoauauotamateaturipukakapiki-maungahoronukupokaiwhenuakitanatahu, is the name of a hill in NZ. Apparently it translates roughly as "the summit where Tamatea, the man with the big knees, the climber of mountains, the land-swallower who travelled about, played his nose flute to his loved one".
- Matt Kennedy-Good
Pictured above: A multi-language sign welcomes motorists crossing the border into Azerbaijan. Photo / Matt Kennedy-Good