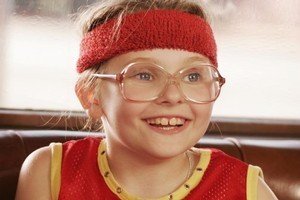 A new book out has warned against telling your little girl that she's beautiful.
Lisa Bloom, author of Think: Straight Talk For Women To Stay Smart In A Dumbed-Down World, says our obsession with talking to our little girls about their appearance is teaching them a dangerous message.
By telling them that looks are more important than anything, Bloom says we're fuelling our image-obsessed culture.
I can understand the theory but really - how is any parent going to stop themselves from gushing over their babies, boy or girl?
The miracle of parenthood is that we all think our babies are the most gorgeous things in the world.
My Dad told me I was the prettiest and cleverest girl ever - it was only when I hit my teens that I realised that not only was I NOT the prettiest and cleverest girl in the world, I wasn't even the prettiest and cleverest girl in 3L at Sacred Heart Girls' College.
But by then, it didn't matter. I felt confident that whatever happened in life I could handle it, because my parents adored me.
Surely a hypercritical parent is going to be far more damaging and destructive than a parent who puts their love into words?