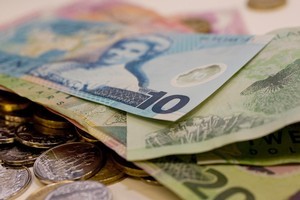 Whenever the Reader's Digest puts out its awards for the most and least trusted occupations, you'll find journalists and politicians right down there in the swamp.
Real estate agents, however, should give us a good run for our money next year after the sad story of 92-year-old Edith South featured on Close Up this week.
In 1998, Edith sold her home through a real estate agent, Patrick Walker. When her husband died a couple of years later, Walker was there for her and the lonely, childless widow grew to trust him.
He'd take her for drives, pop by for visits - the man was a lifeline for Edith, especially after she had a stroke. She granted him power of attorney and metaphorically and literally put her life in her friend's hands.
When Walker announced he was moving to Reefton to set up his own franchise real estate agency, he suggested Edith might like to come with him and perhaps put some of the money from the sale of her house into his business and a house the two of them could share.
It seemed an idyllic way to see out her days.
Now she is broke and homeless after Walker's agency went belly up and it was revealed Walker had never paid for the house Edith is living in.
All in all, Walker had fleeced Edith of $160,000. When Close Up interviewed the head of the Real Estate Agents Authority, the weasel words were enough to make you sick. Chief executive Keith Manch said they'd done everything they were legally obliged to do and had removed Walker's licence to sell, but they didn't have to compensate Edith and she would be getting no money from the authority.
It is absolutely reprehensible that Edith is left high and dry. She is exactly the sort of woman who needs to be protected from such people and every real estate agent should feel a moral obligation to put good their former colleague's wrong.
I'd feel the same about anybody, professional or trade, who used their position to swindle a vulnerable individual - including dodgy journalists.
Any professional or business group that deals with people's life savings should have a fidelity fund or indemnity insurance to safeguard their clients.
I accept that fools and their money are easily parted but surely everyone can see just how wrong it is to target lonely, isolated, old people.
So thank God for companies such as the Mad Butcher. Although Sir Peter Leitch is no longer running the show, the spirit of his philanthropy lives on today. Chief executive Michael Morton has offered to pay Edith's rent for the next five years to ensure she'll have a roof over her head for the foreseeable future.
And the young Close Up reporter, whom Edith asked for help, says she has been overwhelmed by people's kindness and generosity. It's gone a long way towards restoring her faith in human nature.