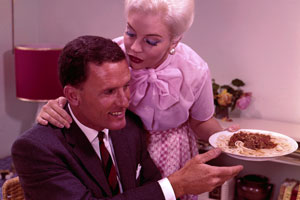 Sydney Daily Telegraph columnist Jenny Dillon has caused a sensation by daring to take on working mums this week, in an opinion piece that suggests that, in past 40 years, many working women "have been perpetuating a hoax, pretending that running a household is still as hard as it was 40 years ago".
The piece has raised the hackles of working women far and wide, as you'd imagine.
Not only is Dillon saying women have never had it so good because of all the labour-saving devices available, but "in an age of the weekly cleaner, the weekly gardener, the weekly shop, the microwave, the deep freeze, the takeaway food options and the pressure on men to perform in the kitchen, any woman with school-age children who isn't in the workforce is either playing tennis or organising poker afternoons".
Well, steady on Jenny. I am largely still a stay-at-home mum and I don't have any hobbies I indulge in on a regular basis - mainly because any childcare I have or need requires paying. There are no sisters, mother or other rellies nearby happy to fill the gaps on a regular basis.
I can't imagine my husband happily stumping up for Japanese tea making courses, and the requisite babysitting, when he has every other bill in the household to foot.
Apart from this part of Dillon's column, however, I actually agree with the substance of her argument. The main point I agree with her on is that modern women certainly do have something that makes their lives much more palatable than women of yesteryear - choice.
There is barely any social stigma attached to any female choice any more and so, if we are usually where we want to be because we've engineered it that way, how could our lives possibly be harder?
We choose to get married, have kids and live with this financial commitment or that. It is unpopular to say it but indeed, if you need to have two wages pay your mortgage, it has to be said that you decided to get that mortgage, to live in that house. To have those kids, to live that lifestyle. And women are, I believe, much happier for that choice, even if they find it a double bind.
It would be ludicrous for me to suggest my life is as hard as that of either of my grandmothers.
My Italian grandmother was Catholic and spent her fertile years pregnant and having children, in post-war Italy with a terminally ill husband.
My New Zealand grandmother had four children and milked cows most of her "fertile" years.
Neither had television, fridges (for the most part), or husbands who were expected to regularly muck in. Most importantly, they didn't have the option of a career - unless they decided to forgo children.
Even my own mother didn't have disposable nappies, microwaves or cellphones to use. She worked because our household needed it, but the workplace in those days had little of the flexibility that today's are expected to offer.
I vividly remember that being off sick from school meant attending school anyhow - sitting at the back of my mother's classroom, trying not to be noticed. There was no money around for babysitters.
All of this is not to say that being a working mum today is a breeze - it is not.
For a start, there are many women who do have to go out and work to put food on the tables for their kids. However, even if work is more of a sanity-saving exercise than a strict necessity, it takes a lot of planning, preparation and multi-tasking. I only work two days a week and I'm amazed how hectic things get - a whole different kind of effort from staying home all day, naturally.
Many modern women bemoan the guilt they feel about their choices. Which is understandable. But really, guilt is a natural side-effect for many of the choices freely wielded.
To any woman scoffing at Jenny Dillon's beliefs about today's working woman, I would say ask yourself a simple question: would you rather have been a childbearing woman 40 years ago, or now?