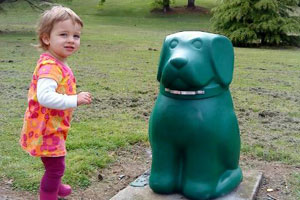 Boy oh boy, marriage talking points have whittled themselves right down when dog faeces can cause several days of excitement and debate.
The other day, in the middle of what I thought was quite a romantic hug and chat after a hard day's work, my husband, in his usual style, looked like he was gearing up to say something either momentous or romantic.
I don't know why I thought that, because whenever my husband has filled his lungs thus in times past, what's always followed is a treatise on New Zealand prime ministers of the 20th century (Kirk thru Bolger); the inequalities of the Foreshore and Seabed legislation, or the latest Twitter brilliance from one Ali Ikram.
But his statement this time really had me gasping like a goldfish.
It turns out someone had blown apart a beloved dog poo receptacle at our local park with fireworks.
You might infer from this comment that we actually use the dog poo receptacle for our own dog's waste. But the truth is we don't have a dog, and find the whole concept of dog faeces reasonably disgusting.
Instead, we have a daughter who loves the big green doggy in the park and gives it lots of hugs and a few kisses (which we try to dissuade her from doing) whenever she chances upon it.
Now, thugs and hoons - I've listened quite a bit to Leighton Smith (against my will) lately and I find myself picking up the jargon - have blown the poor doggy's head off, in the middle of a beautifully manicured park, in the middle of Mt Eden.
What on earth is the world coming to?
We may have simply chalked it up to one more nail in the coffin for decent society, if not for today, when we revisited the park.
Gazing fondly at the place our little plastic doggy once stood, we were passed by a council van containing, on its trailer, a new big green plastic dog receptacle!
We hovered and played until the council employee finished his work - as my husband earnestly said, "dog poo containers don't install themselves!" - then went over to the park's newest addition and took some shots of our daughter frolicking around it.
It's a genuine toss-up as to what is more tragic - the loss of the orginal receptacle, the fact it occupied our conversation time for at least two days, the fact we took photos of it on our trip to the park, or the fact that I hurried home to write a blog about it.
Either way, it is incidents like this that, I think, provide the most realistic glimpse into parenting young children.
If you're undecided abut having them, read about our doggy doo adventure and your reaction will guide how suitable you are for the task!
- Dita De Boni
Pictured above: My daughter with the newly-installed dog poo receptacle. Photo / Dita De Boni