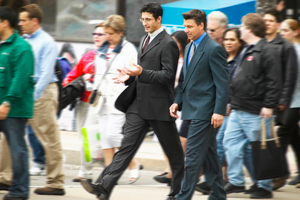 There are many different gaits out there. For those of you who don't know what a "gait" is, my philistine definition reads thus: it's the way a person walks. And one's gait can be highly indicative of one's character.
The Galumph is a thunderous stride. When a man/woman hits the pavement, floor or turf with a heavy, awkward oomph, he/she has what we call a Galumph. It is a thudding, pounding tread. And a bystander will feel it. Imagine a Roman who was there when the Empire declined and fell, and you get a clear picture; this person wants you to know who they are, what they're about and that they mean business. I am who I am and I don't give a damn what you think is the message in this gait. It's intense.
The Spring-in-the-Step gait can mean many, many things. Either, this person is so busy txting or adjusting, they unknowingly tip-toe along, oblivious to the fact they look like they're going to topple over at a moment's notice; or it can point to an egocentric personality longing to be noticed, bouncing along; or it can simply entail the person really loves what they're doing, and how they look when they walk can, frankly, be damned.
This gait is less self-conscious than the Galumph, believe it or not. Moreover, the Hobble is less self-conscious than both.
The Hobble is common among dreamers, hangover sufferers, serious sticks and people who disregard timeliness. The Hobbler shuffles along the sidewalk as if walking is a brand new game to him/her; he/she looks like they're struggling, big-time. In actual fact, they're not struggling at all, far from it. The Hobble is the most unthinking, easy of gaits there is, in the sense that he/she is totally unfocused on the task at hand and is, on the contrary, pre-occupied dreaming of their next curry, pay cheque or wine or beer. The Hobbler has no street-awareness, primarily.
The Slide is a very deceiving gait. A person may slickly slide along the pavement in a swish, breeze-like rhythm, looking like he has it all, knows it all and is the be-all-and-end-all. Basically one thinks they're dealing with an utterly relaxed being, here. But this is not so, for looks are deceiving. The reason the Slider looks at-ease is, unlike the Hobbler, he/she has the pestilent present burdening him, unrelentingly so, in turn, like the Hobbler, he/she cannot afford to have any self-consciousness about his/her walk. The Hobbler slides in spite of himself. Needless to say, the Hobbler and the Slider are equally un-self-conscious.
The Roll is a really interesting gait. This person, in walking like a cat with rolling shoulders, has total street-awareness, coolness and ready-to-pounceness. He or she has seen the rough, tough side of life, and rolls with the peaks and troughs, as a consequence, unquestioningly and unquestionably. Essentially, the Roller is easy-going, but knows implicitly it all could explode at any moment, and hence is always on guard. He/she doesn't have a problem unless you do, however, and boasts the coolest of gaits, the coolest and the edgiest. How is this possible, to be the coolest and the edgiest, you wonder. Well, as Lao Tzu once said, "Straightforward words seem paradoxical".
And, finally, the gait of gaits belongs to the Sloper. This person is expert at sloping slowly, and looks as if they're half asleep or languidly swinging up and down in the trees, or delivering a long-limbed in-swinger. There really is a floaty, basketball-like limberness in the Sloper's walk, and theirs is the most enviable, as they genuinely are the most untroubled about the whole walking business.
Furthermore, if you possess one of the above, feel lucky.