Got Tokyo fatigue? The beautifully preserved Edo town of Takayama is the perfect salve, and just a short train ride away. Sit on the right and hope for clear skies to get a good view of Fuji.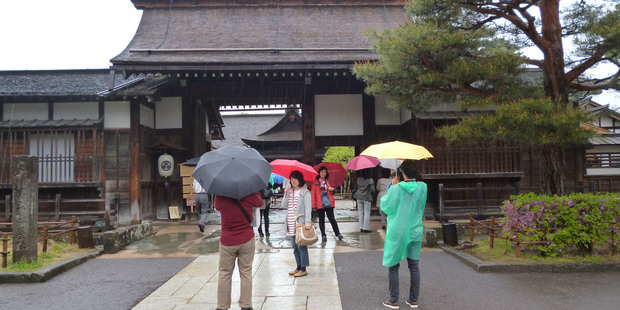 With just a day to take it all in, we drop our gear at Takayama Zenkoji, our budget buddhist temple accommodation, and head straight to Takayama Jinya administrative centre- the former government offices of the Tokugawa Shogunate.
I wouldn't ordinarily jump at the opportunity to visit an administrative centre - in fact, admin is one of the things I'm taking a holiday from - but the Tokugawa Shogunate took administration to the next level. They united a country in civil war and, with a strong vision for Japan, banned foreigners, enforced a strict social order and celebrated the country's unique arts and culture. Ever watched a samurai film? This is the admin I'm talking about.
Our guide's a while coming, so my partner and I sample the rich sesame cakes and violently-coloured pickles at the farmers' market outside, and gaze at Takayama Jinya's impending wooden gates, debating the best way to scale them - if we were ninjas.
Emma, our English speaking guide, arrives. She's about half our height, engulfed in a rustling anorak, with a wide, infectious smile.
We wind through Takayama Jinya's grand halls, across ornately decorated tatami mats for the highest ranked guests, then onto smaller rooms of simple, black-bordered tatami, where the cleaners, cooks and wives hid. "Women were thought of as dirty," she explains, sliding together what looks like a stack of doors, built to protect the governor and his guests from the sight of their wives.
Emma tackles every one of our Shogun-related trivia questions, gives us empathetic looks when we bump our heads on the low ceiling beams, and best of all, has the authority to touch things - opening shutters, unbolting locks, and showing off the ingenious joinery of the area's carpenters. Emma's services are also free, and she doesn't accept even a coffee as thanks - not that we're entirely sure how to order one from the vending machine anyway.
Back at the temple, I'm pleased to note that our tatami mats are bordered with a golden flower pattern. High ranking! But something isn't sitting right. Why are the only notices around the place in English? Does this place never have Japanese guests?
It's raining. Water rolls toward the curling eaves of the tiled wooden roofs, channeled down bell adorned chains and into deep, concrete gutters.
Swiping an umbrella from the bunch by the door, we join the bright flutter of brollies over the Miyagawa river at the Old Private Houses. Well accustomed to the rain, the people of Takayama seem to have something of an umbrella sharing program, or so I hypothesise.
We wander down rows of dark wooden shops and paper shuttered merchants' quarters, largely untouched since the Edo period. Along these cobbled streets edible handicrafts overwhelm the senses; hot, sticky rice cakes dripping with burnt sugar sauce; barrels of thick miso paste; and the musty sweetness of century old sake breweries. Sakabayashi, large cedarwood balls, hang above the sake breweries - a sign that the brew is ready for drinking.
It's getting late, so we pop into the closest brewery for a sampling tray. We're handed a clean, rocket-fuel-strength shot; a chewy, white variety, thick with rice sediment, and one that according to the tasting notes "appeals to women and Europeans", probably because it tastes a lot like chardonnay.
Bars and clubs are a lot harder to identify than sake breweries, and to my dismay, following the strains of karaoke is no golden compass. After being politely turned away from two glitzy private members clubs, a simple, cardboard sign beckons - "PUB".
Peeking gingerly through a crack in the door, our ears fill with the most haunting mountain music. Through the dim red light, an elderly man plucks at a shamisen. Seated beside him is a friend on the shakuhachi flute. A woman gripping a giant cassette player hovers overhead. We've walked in on a recording session.
The taller of the two, a middle-aged vaudevillian in a buttoned-up cardigan, hails us into their homely clubhouse, pours us tall beers, laughs loudly at our being there, and invites us to join the group in karaoke. Struggling to maintain the mood set by their own morose ballads, I wallow as best I can in The Carpenters' 'Superstar'.
"Hoteru?" he asks, as we ready ourselves to leave.
"Uh, Takayama Zenkoji," I reply. He shoves an umbrella into my hand and waves us off into the night. Did he just wince?
Outside our Buddhist Temple accommodation, I'm drawn to a monument I haven't noticed before. A large, stone memorial at the door.
Following World War II, a priest from this temple travelled throughout the Pacific, the translation reads, collecting the remains of unknown soldiers from all sides. Their remains are interred, the translation continues, and their troubled souls set free underneath this stone. This one. Right here.
Interred? Remains? Surely that translation's been through some sort of spiritual embellishment. Sliding open the rice paper door to our room, I wonder what the war dead would think of their bodies, all tumbled together, under a tree in the Japanese alps. Shuffling across the tatami, and over to my sleepy travel partner, I ask myself, is this a revelation that should wait until morning?
- nzherald.co.nz