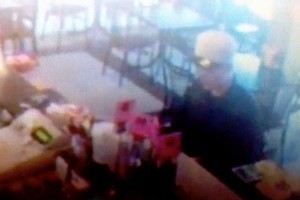 An Japanese restaurant has resorted to attaching bells to its charity donation buckets after a thief stole money intended for victims of the Japan earthquake and tsunami.
At least seven donation buckets in Japanese businesses around Auckland have been filched recently.
Saika Japanese Restaurant employee Akane Norimatsu said the thief had asked her for a menu, which he examined by the front counter while she served customers and dashed in and out of the kitchen.
"He was kind of looking around and it looked a bit weird, I thought."
Security footage shows him dipping his hand into the donations bucket and stashing money in his jacket before ordering a chicken teriyaki don to take away.
He said he would be back to collect his meal and left the restaurant with between $30 and $50, but not before paying the $10 bill.
Ms Norimatsu said she could not believe anyone would do such a thing.
"It's really shocking because obviously it was for people who are suffering from this natural disaster. We're really shocked."
The restaurant has attached bells to the donation bucket to alert staff if anyone tries to steal from it again."
Japanese Society of Auckland president Masa Sekikawa said he was disgusted.
"How do you express the feeling? It's very, very sickening in your stomach, finding out that there are people who do things like that. It's just amazing.
"Hundreds of thousands of people donated their coins and notes, and their thoughts and their wishes are all stolen with the money, that's the worst part of it."
It was not known whether the thefts were connected.
About $80,000 had been raised through the Pray for Japan fundraising scheme, which would be given to the Red Cross.
The not-for-profit Japanese Society of Auckland also raised significant funds for the victims of the Christchurch earthquake.
- NZPA