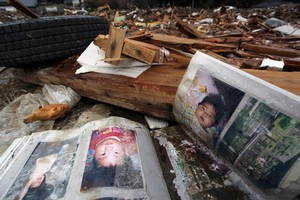 Kamaishi - our first night on the coast and we sleep on the ground under a still-standing caryard shelter. The offices had been swept away. If it wasn't for our new Macpac sleeping bags we'd freeze in the sub-zero temperatures.
We have our backpacks on the ground around us to stop the wind cutting straight through.
While we are setting up camp, the local police arrive. With the media-police relationship in New Zealand frosty at the best of times, I think we're in trouble. But all they want to do is make sure we are safe for the night before they carry on.
At each stop, we plan what our emergency exit will be, what we will take, where we will meet up if separated and who is going to film.
In every area we go to, the risks are weighed up and we back off if we feel it is too dangerous.
As we travel along the coast road, we come across small coastal villages, wiped off the map except for a few homes built higher up the hills.
Each town had a tsunami wall and warning signs posted everywhere for locals. To keep ourselves sane, we tell ourselves that they all heeded the warning signals and made it to higher ground.
At a public rest stop, we are approached by an elderly Japanese woman who has read our note, written in Japanese and stuck to the inside of our window. It says where we are from and what we are doing here.
She keeps smiling and talking to us loudly in Japanese. We pick up words of thanks.
She comes back a few minutes later as we are driving away - to give us fruit and sweets.
The Japanese are among the most polite people I have ever met, and will apologise profusely if they can't do anything for you.
I mistakenly enter a gas station through the exit, not noticing the fuel queue weaving its way around the block. I don't get any angry response from anyone - just apologies that I can't enter and apologies that I will have to go to the end of the queue.
The next town is called Rikuzentakata. It is as if the town was drawn on a whiteboard, then someone wiped it off with their hand.
Only a few smudges are left of a town that was once the size of Pukekohe. The force of the waves was so great that huge concrete sections of the tsunami wall were knocked back into the sea. Even railway tracks, 800m inland and about 15m above sea level, are bent out of shape like a long piece of metal melted by a soldering iron.
The devastation goes for miles inland - even the bay looks as if it joins the land because of timber floating in with the tide.
Walking through the debris, we see photo albums with pictures of kids having birthdays, grandparents, their children and grandchildren in formal portraits, young adults smiling into the camera. And we know the majority of these people are still missing.
Tomorrow brings more of the same. It almost gets to the point where an upside-down house or a boat hundreds of metres inland just doesn't get a second glance.
This is why we are welcome here. The Japanese want the world to see it - to see it close-up and raw so that no one forgets it.