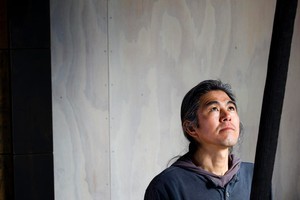 Within hours of the Christchurch earthquake, poets, musicians and other artists started organising fundraising events. At the time I was bemused - surely no Scrooge would demand entertainment before they would begrudgingly hand over some pennies for the thousands in crisis? And of course they wouldn't - not in those first couple of weeks, anyway. We all dug deep.
But now I think the ongoing arts fundraisers - for Japan as well as Christchurch - help in at least two ways. First, if you're going out for the night or buying art anyway, it's nice to have the choice of going to a gig or buying a piece where your money will hopefully do some good - to add to (and not replace) your other donations.
But art is more than a "product" like hardware and shoes, which can be turned into money for charity. The second way art fundraisers help is by acknowledging the significance of the continuing pain, to ensure we don't forget as we carry on in rude health.
Often the songs, poems, artworks or temporary garden designs - in landscape designer Xanthe White's case at Western Park last month - respond directly to the crises and their aftermath. (I haven't yet seen anyone reference shock-doctrine tactics but I'm looking forward to it.)
These events can be contemplative and about remembrance - community memorials in artistic rather than religious clothing. This is something art can offer which many other activities cannot.
Next Sunday, April 10, Waiheke Island artist Kazu Nakagawa is launching a fundraising project Chiyo-Ni for Japan, centred on his "Andante" artwork umbrellas - symbols of protection from nature.
Launch participants will "stand in the tide" at Palm Beach holding umbrellas and will "begin a silent reflection" on the events in Japan.
Such acts make the event more meaningful than merely sending money - important for Japanese-born Nakagawa. "[We send] our thoughts to the people suffering at the place we cannot reach with our hands," he writes.
Fundraising and solidarity aside, art can help those in crisis directly, as Dr Nicholas Rowe can tell you, having spent eight years as a dance educator in the West Bank. Now a senior lecturer in dance studies at the University of Auckland, he is putting the tools he developed in Palestine to use in Christchurch, with the university's Creative Responses in Schools initiative.
They went to the city last month for the first of several planned visits.
While arts therapy mostly aims for post-traumatic healing and "closure", the aim of Rowe's "arts in traumatised communities" is to allow people to find mechanisms to cope with ongoing uncertainty and instability. As Rowe says: "I can't promise no more earthquakes."
So instead of participants revisiting traumatic experiences in order to move beyond them, Rowe uses fun and creative movement to take children's minds off the heavy anxiety which surrounds them. One girl, who would habitually look at her classroom fire escape every five minutes, didn't look at it once during the hour-long workshop.
And more importantly, the games are designed to rebuild the children's communication and confidence in moving and decision-making. This is necessary as living through aftershocks, like living under siege as in Palestine, "shakes people's sense of control and autonomy".
Art for remembrance for some; art for solace for others.
See chiyoni.org.nz