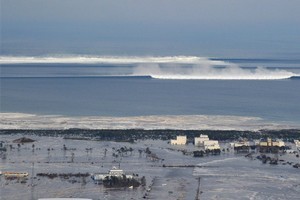 The Japanese urban search and rescue teams which had been helping in the search for Christchurch earthquake victims for two weeks, is heading back to Japan to help with the earthquake and tsunami crisis there.
An 8.9-magnitude earthquake struck off the eastern coast of Japan yesterday, generating a tsunami which swept over the country, wiping out towns and industry.
News coverage of the disaster - which is expected to claim up to 1000 lives - has shocked the world.
The Japanese teams in Christchurch began their trip back to Japan early when news of the disaster reached New Zealand.
Japan sent 70 search and rescue members to Christchurch following February 22`s 6.3-magnitude quake, as well as counsellors, fingerprint experts, an interpreter, coastguard, police and fire fighters, as well as three sniffer dogs.
The search and rescue team had been working on the collapsed CTV building where many foreign students - mostly at an English language school - were trapped and killed.
Most other search and rescue teams from other countries were due to leave New Zealand this weekend.
The Australian team was expected to leave on Wednesday.
- NZPA