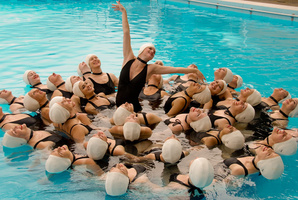 Only in Auckland: teaching a hip-hop dance to a group of Buddhist women on Waiheke Island led Lara Fischel-Chisholm to choreograph a water ballet for 70-80 people in this year's Fringe Festival, which starts later this month.
The invitation to create the ballet came about as one of her hip-hop students was also one of the Wet Hot Beauties - Auckland's celebrated community water dance group, which performs every summer at Parnell Pools. The dancer/actor/burlesque performer said yes without having seen a Beauties show, and then watched footage from their last Fringe extravaganza Sirens (which won the People's Choice Award) "and had a freak-out".
The mammoth number of bodies she would be directing was daunting (and, thanks to the all-inclusive ethos of founding Beauties Pip Hall and Judy Dale, the numbers have kept growing throughout the rehearsal period).
Water also brings its own challenges: its flow slows bodies down and it allows no visible footwork. "You've only got half your body, half your instrument, to use," says Fischel-Chisholm.
And while the Beauties are in the eye of the beholder, pain is in the eye of the Beauties (the reason I personally am no Beauty is that I'm too much of a wuss to blink away stinging salt water while smiling delightedly).
But water gives as well as takes away - performers can float, swim and splash using the medium they're immersed in to make an effect which, Fischel-Chisholm points out, is not possible when you're doing floorwork in "a box full of air".
During early "dry" rehearsals, performers have to imagine the water around them. This is made easier by the deep teal-blue carpet and walls of the Pt Chevalier School hall where they rehearse.
Only a gaudy fabric print of Leonardo da Vinci's The Last Supper - presumably left behind by other hall borrowers - reminds the happy, chatty rehearsal attendees that they're not underwater at the bottom of an aquarium.
In the end, Fischel-Chisholm has found the project fun. What the Beauties do is possibly unique in the world; it's not synchronised swimming (some participants can't even swim) but more synchronised wading in thigh-high water. Like the swans they're mimicking in this year's Swan Lake-inspired Swan Song, they seem to glide glamorously above the water, but an underwater camera would catch their legs waddling like ducks. Nail polish gets scraped off toes at the first wet rehearsal, but by bending your legs so only your toothy grin is visible, "you can sell [the water] as a bottomless sea, and then shatter the illusion by lifting your body out of the water," says Dale.
While Sirens was "music videos on a theme" (as Dale describes it), Swan Song has been conceived as a cohesive, 45-minute water ballet, complete with "Team Odette", "Team Odile" and recurring movement motifs (set to Tchaikovsky, Florence and the Machine, Whitney Houston et al).
Group shape formations are key to the structure, but the individual talents of performers are also drawn upon - Odile will perform yoga on a paddle board.
Not so different from Waiheke hip-hop, after all?
Swan Song 13: February 17, Parnell Baths, bookings through iTicket.