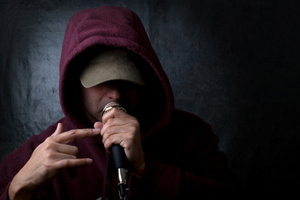 Easter, eh? That time of the year where everything is dipped in chocolate, and the actual meaning of and reason for the longest weekend is kinda forgotten amidst the prayers for fine weather and that one last chance for us to pretend it is still summer before the reality of the end of Daylight Savings kicks in.
But, lest we forget, there is still a whole Christian thing attached to Easter; a story of Last Suppers and Judas and crucifixions and enigmatic disappearing bodies. It is a story that is engrained in our culture and our collective consciousness, right up there with how Stephen "Beaver" Donald won the Rugby World Cup.
Of course the thing about stories as old as the Easter yarn is that you can't help but wonder how they'd play out today. We wonder this because, well, wondering about stuff is fun.
One possible version of a modern Easter story has a rapper/prophet called Jaypac as its central character. One long weekend Jaypac gathers his entourage together and tells them they're rolling into the city for the Sonny Bill fight.
Jaypac's boys are all, like, "choice!" and they all drive into the city in a convoy of people-movers with tinted windows. But by the time they get there the Sonny Bill fight is over because it went a couple of rounds shorter than anyone was expecting. So instead they go to this club called the Last Supper Club.
At the club, after a few cognacs, Jaypac starts freaking his entourage out by getting all dark and deep on things, saying that the Hennessy is his blood and the tapas they've ordered are his body. But the boys figure this is just him working on a new song/sermon, until he gives them all the stare and announces that this weekend, one of them will betray him. The boys are all, like, "no way, man; we would never do that; we're not narcs!"
Except one of the boys, J-dass, is real quiet, sitting back and saying nothing.
But the very next morning, when Jaypac and his entourage go to a restaurant called the Mount of Olives for their famous all-the-olives-you-can-eat breakfast, all this weird stuff starts happening. First there's this rooster that keeps crowing even though it is, like, 10am; then J-dass plants this big fat kiss on Jaypac, which gets the rest of the boys muttering how they "didn't know J-dass was like that"; then all these cops burst in and arrest Jaypac on these totally bogus charges about how his lyrics and his rhymes are inciting trouble in ghettos and white middle-class suburbs all over the land. As Jaypac is taken away everyone records everything on their smart-phones and iPads and uploads it to the Net.
After some water-boarding and other forms of torture, during which Jaypac remains totally staunch, they bring him before the dude in charge of everything: Toyota Prius. In the show-trial that follows Jaypac is so staunch in the face of some pretty loaded questions that even Prius is, like, "whoa, we have a major PR problem with this dude," so he decides to go with the Novopay option and wash his hands of the problem.
The end result is that Jaypac is turned over to a frenzied mob of the righteous. The mob, being right-minded people who believe in what is fair and proper - and that Jaypac's rhymes/parables are the root of everything that is wrong with the youth today - decide that crucifixion is, of course, the only civilised way of dealing with the problem.
Thus it is that Jaypac, who had seen all this coming way before anyone else, finds himself high on a hill, along with a couple of internet download pirates, wearing the Bling of Thorns and having the whole crucifixion experience. It is not a fun time for Jaypac and just before he dies he looks up to the skies and says, "Yo, Biggie! What gives, eh?" We know this because everyone watching has recorded the moment on their smart-phones and iPads.
So what started out as a long weekend and watching Sonny Bill smack over some patsy ends for Jaypac with him dead, in a tomb. Or not, as the case may be; 'cause when his entourage come to get the body to take it home for the tangi, Jaypac is gone-burger - not even a note left behind. Confusion all round.
But then Jaypac appears to his boys as a hologram; telling them he's cool and hanging with his Da, and to carry on releasing and re-mixing his words, even though he's not around to executive-produce things. And this thing is what they proceed to do, for thousands and thousands of years. Amen.