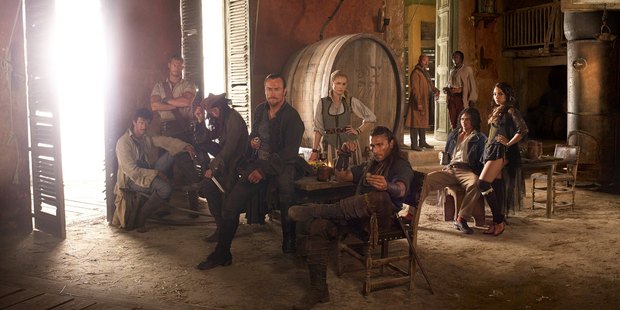 If you have eyes, the battle to own them begins today.
That's thanks to the launch of Lightbox, Spark's on-demand initiative which went live overnight and in the process became New Zealand's first locally produced online paid TV subscription network.
Read more:
• Chris Schulz: One out of the box
• How Lightbox's hot new shows stack up
Lightbox faces stiff competition from big name overseas services that have already launched here and are all battling for viewers' on-demand dollars, including Quikflix, Netflix and Ezyflix.
And with Sky TV entering the fray by December with its own on-demand service - and up to 900,000 TV subscribers already hooked into its brand - the competition is unlikely to end anytime soon.
Developed by Spark and with more than $20 million already invested, Lightbox lands with around 5000 hours of content and a total of 171 titles, including several exclusive shows unavailable elsewhere in New Zealand.
They include the announcement today of pirate tale Black Sails, lawyer drama Suits, legal comedy Franklin & Bash, paranormal freakout Lost Girl and animated kids show 3rd & Bird.
They join previously announced exclusives Outlander, 24: Live Another Day and Vikings.
Lightbox comes with a price tag of $15 per month, with a free 30-day trial period available to users unsure about the service. An account can be used on up to five devices, with two shows able to be watched on separate devices at any one time.
Lightbox can connect to your TV from your iPad with Airplay connected through the Apple TV service. Spark hopes to woo 70,000 Lightbox subscribers within its first year, and there's plenty on offer to tempt those entering the on-demand fray for the first time.
Lightbox's back catalogue includes plenty of options for those hankering for a serious binge-viewing session, including every episode ever made of Breaking Bad, as well as recent seasons of House of Cards, Orange is the New Black, Orphan Black and Homeland. Older dramas include The X-Files, Heroes, Boston Legal, Battlestar Galactica and Law & Order.
Its range of comedies includes recent seasons of Modern Family, Arrested Development, Louie and Alpha House, and it also has an impressive array of older shows, including The Office (both US and UK versions), Parks and Recreation, The Thick of It, Seinfeld, 30 Rock, The League of Gentlemen and The Inbetweeners.
As Lightbox CEO Kym Niblock puts it: "We've taken the hard work out of getting access to great television by assembling some of the best shows ever made in one service that's affordable and incredibly easy to use."
TimeOut also understands Lightbox will add one of television's most hotly anticipated new shows to its line-up in the New Year.
It's news like that will have viewers in the market assessing their options - and no doubt competitors keeping their eye on the new kid in town.
- TimeOut