A colourful past comes to life when you visit Norfolk, the Pacific's undiscovered island, writes Paul Rush.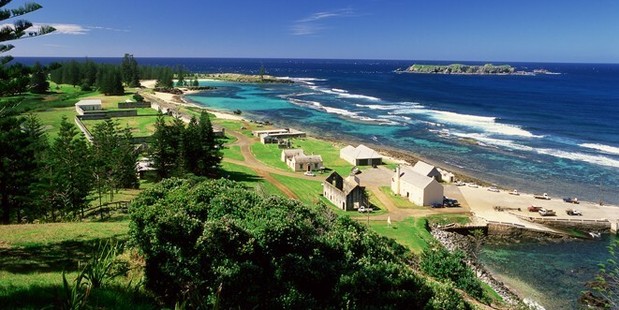 Seeking a quiet haven in the sun for a short holiday break, I have taken a 90-minute flight to Norfolk Island.
The pocket-sized, 8 x 5 km island has a reputation for stunning beauty, friendly locals, charming beaches, gentle breezes and the ubiquitous Norfolk Island pines.
Think of Waiheke Island with stately palm trees, warmer temperatures and superb fishing and diving in a cobalt blue sea. Shopping is also tax free in Aussie dollars with a tempting 30 per cent traveller's discount on liquor sales.
This is a beguiling isle where time stands still. Imagine my surprise when I unlock a colourful past where all sorts of characters jump out at me from cafes, cemeteries and convict ruins. The gentle folk of Norfolk have emerged from the spectre of a very painful past and some of those old identities still make their presence felt in the dead of night.
The cafes and restaurants of Burnt Pine township are the place to meet the amiable locals.
Many speak the Norfolk dialect, a quaint combination of Old English and Tahitian created by the descendants of the Bounty mutineers who moved to Norfolk Island in 1856, having outgrown their Pitcairn sanctuary. There's a regular sound and light show at Kingston with costumed actors, theatrical lighting and real life sounds. It's the best way to learn the Pitcairn stories and experience the spooky atmosphere of Kingston after dark.
'Welkum to Norfolk Ailen, da bass side on Earth', is the first greeting I receive from a cheerful soul - a welcome to the best place on earth. A well dressed pensioner looking disconsolately into his pint of beer in the RSL Club seems a little reticent when I attempt to make conversation. 'I've been a bit of a Barney Duffy lately (stuck indoors),' he tells me. 'So who's this Barney Duffy character?' I ask, eager to meet local identities and knowing that the island abounds in stories just waiting to be told.
My informant directs me to the nearby Barney Duffy's Charcoal Grill but I discover to my chagrin the poor fellow was hanged around 1797. I learn that this incorrigible convict escaped from Kingston prison and hid for seven years in the bole of a huge Norfolk Island pine. When two soldiers from the garrison were on a fishing trip, they found the tall, naked man with a matted beard and arrested him.
'Take me to the gallows ye red-coated, lily-livered lice and before me corpse has hung a week ye'll meet a violent death,' he told them. The men paid no heed to the curse and two days later a freak wave carried them off the Headstone fishing reef to their deaths. The sea has a habit of rising suddenly at that point on 'the seventh wave'.
Charcoal Grill owner, Paul Cocking, makes the most of Barney's story and intrigues me with his personal interest in orbs. In the dead of night he ventures out with his digital camera seeking to capture elusive globes, globules and hovering balls of light. Positive orbs are believed to be spirits of the dead by many people, or perhaps separate life forms or even nature spirits.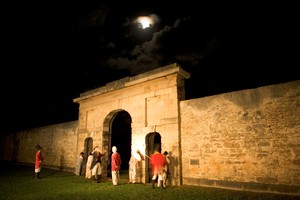 I'm not inclined to doubt the authenticity of spirits on an island that held the British Empire's most depraved convicts, many of whom went to the gallows with a curse on their lips. But I do confess that my trusty digital camera has a propensity for capturing dust particles in the air as round ghost orbs, reflecting light from the flash.
Spirits abound in this mystical island. It was first settled by Polynesians but Captain Cook found it uninhabited in 1774 when he named it and described it as 'paradise'.
The island was settled by English soldiers and convicts just 39 days later than Sydney in 1788 and continued until it was abandoned in 1814.
Resettled in 1825 by more soldiers and convicts, it became a place of such dire misery that many inmates sought execution as a release from suffering. Some say their spirits linger in the air for modern folk to breathe in. All but a skeleton staff departed 30 years later when 194 descendants of the mutineers of HMS Bounty were transferred here from Pitcairn Island.
Remarkably, the only other convict ghost story concerns the storehouse by the Kingston jetty. A responsible officer observed a figure descending the stone steps. The figure walked across the jetty and down steps leading to the water. Curious, the officer followed until he could see the landing at the water's edge. No one was there. The spectre was thought to be a convict who had earlier lost his life by drowning.
Amongst the early settlers there is a wealth of spectral encounters. Even as the caretakers of the island awaited the arrival of the Pitcairn migrants, one woman had a vivid dream of a tall, dark-complexioned woman named Rachael standing by her bed. As the new arrivals came ashore she met the pre-sentient migrant who was Rachael Evans, daughter of mutineer John Adams and his Tahitian wife, Vahineatua.
Norfolk's fine houses along Quality Row at Kingston have housed a succession of government officials. One official's wife was enjoying the cosiness of her open fire on a wintry night at No.7 when the passage door opened and a woman sat down in an easy chair beside her. She was expecting her daughter home so did not look up immediately.
When she turned to speak the chair was empty. A neighbour told her it could only be Aunt Evie, a loveable soul who had lived and died in the Row.
Another phantom assumes the role of a hitchhiker and thumbs for rides from the coast to the middle of the island. Otherwise rational people have had the common experience of finding a passenger in their car when driving up Middlegate Road from the Kingston War Memorial. At Middlegate an unplanned stop is made and the driver has the distinct feeling that someone has left the car.
The nearby cemetery can be particularly sombre and dismal, even in daylight.
After attending the funeral of a dearly loved friend, one lady made the mistake of taking a flower from the wreaths laid on the grave. That evening, alone in her house, she heard the front door opening and assumed it was her aunt. She called out a welcome but found the door open and not a soul inside or out. The aunt arrived later, heard the story and chided her for removing the graveside flower.
The same lady later read a book about psychic phenomena and found herself waking at night to see lights moving down the hall into her bedroom. This wasn't a unique experience as another islander was followed by a light when walking home from the Leagues Club. He had been drunk when he set out but claimed to be stone cold sober when the apparition finally vanished near his home.
After hearing all these metaphysical happenings from the other-worldly dark side of Norfolk Island, I'm happy to retire to the quiet, convivial ambience of Cafe Tempo in Burnt Pine and reflect on my island visit.
Ghosts aside, I have enjoyed the many attractions and activities on the island and fine dining in some of the 35 cafes and restaurants. The island has surpassed my expectations for beauty of its landscape, its safety and conviviality. The locals are a thousand times friendlier than the 'incorrigibles' who lived here in the days of the penal colony.
As night falls I'm well and truly secure in my cosy unit at the Cumberland Resort on Taylor Road. I console myself in the belief that there's absolutely no reason for me to venture out in the dark.
CHECKLIST
Getting there: Air New Zealand operates a weekly service from Auckland to Norfolk Island with additional services via Sydney and Brisbane.
Getting around: Rental cars cost around $25 a day and bicycles can be hired. Be sure to give the mandatory wave to all oncoming drivers.
Currency: The island is a self-governing external territory of Australia and Australian dollars are used.
Island Tours: A range of round-island orientation tours are available along with fascinating historical re-enactment shows in the evenings. Pinetree Tours stage a night-time Sound & Light show at Kingston that captures the mood of the convict era.
Accommodation: A wide selection of 60 properties gives the visitor a variety of styles to choose from. They are all AAA graded, maintaining the Australian standard. The Cumberland Resort & Spa is very comfortable and conveniently near the Burnt Pine shopping area.
Further information: See norfolkisland.com.au, norfolkislands.com or kavha.gov.nf.
Paul Rush travelled to Norfolk Island courtesy of Norfolk Island Tourism.