Ewan McDonald tries his hand at sand-surfing, dune-riding and more at Tangalooma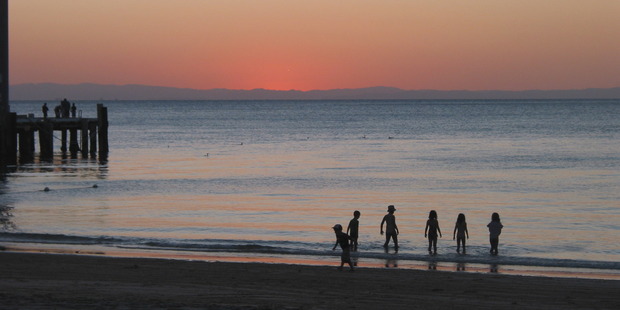 "Board up, elbows up, legs down, chest down
Board up, elbows up, legs down, chest down"
We've heard this. Forty or more times. It's become a mantra.
Maybe 50 of us are standing on top of an improbably golden sand dune that soars 42m, give or take, straight up into an impossibly blue sky. On an island 75 minutes by fast catamaran from Brisbane.
Some of us are Kiwi. Lots of them are Aussie. Even more are Chinese on package holidays. Some are athletic. More are teenage, or 6, or possibly 7. One of us is the scrawny-tending-towards-sunburned-chicken-legged white guy. That one would be me.
Too soon it's my turn. Norm, the impossibly chirpy bus driver / tour guide / nature adviser / sand toboggan mentor, repeats the chant.
I look over the rim of the sand dune, shuffle my hips back down the piece of chipboard, and remember my fear of high things like ...
Too late. Norm has launched me into the void. I am exhilarated.
For at least 3m until I forget to keep my elbows up like wings, or my board raised. I eat sand. It has found every crevice of my body, and some I had forgotten I had.
Carrying my board to the bottom of the dune, I applaud the photographer for managing to get an in-focus shot of me coming down the mountain in the split-second before I faceplanted.
The 6-year-olds pick themselves up, dust themselves off, and start all over again on the hike up the dune for another ride.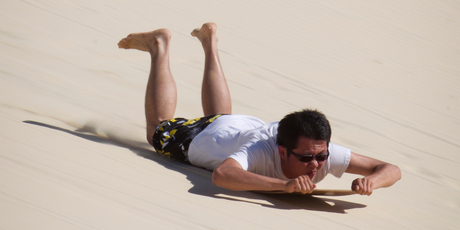 The guy who runs the quad-bike rides on the island 75 minutes from Brisbane is the sort of guy you would expect to be running the quad-bike rides on ... Laidback might be too rousing a word to describe him.
He plays the safety video that the local OSH demands and tells there will be questions later, and we have to get them right before we can we pilot a 250cc vehicle across dunes, through sharp turns, on beaches populated by small children with buckets and balls and young women vaguely wearing swimsuits on a hot afternoon on an island ...
On a quiet spot of beach we have to show we can brake three times using the foot and two handbrakes before we're allowed to proceed in a 20km/h crocodile behind the laidback guy.
At the head of our team I pull up 20cm behind the mark. "Smart," he says. "You've ridden a bike?" "Every day," I smile. "So why," he asks, "are you accelerating and braking at the same time?"
We master the beach. We conquer the uphill path. We sashay among the soft swirling subsiding susurrus of sand swathes. Too soon it's time to head downhill, back to the hard sand. Except ... who put that damned tree there? My front wheels, guards, bumpers are inextricably entwined with one of those inextricably entwining Aussie trees. Ten or twenty 6-year-old children point and giggle as they ride their mini-quad-bikes past two guys trying to manhandle a grown-up and his bike from a tangled tree.
"Thought you rode a bike every day?" asked the laidback guy who runs the quad-bikes. I could tell him that quad-bikes don't handle the dunes like a 50cc scooter on Quay St but he probably wouldn't understand.


The sun has gone down on me and three or four hundred people in front of the resort. We are gathered on the dock, waiting for a nightly ritual. We are all struggling with the odour from buckets of small fodder-fish on the beach.
But we are hardy souls. OK, we are shivering souls. But none of us is going to pass up this opportunity though, after the faceplant and wrapping the bike around the tree, I am worried what my clumsiness might do to an already rare and becoming scarcer marine mammal.
Following the staff's instructions we form a line, wash our hands in one bucket, pick up a tiny silver fish by the tail from the second bucket and then - when called - walk into the sea. We lower the fish into the water. A swish. A swash. A nuzzle, a nip ... five, six, eight dolphins have come into the bay and fed out of our hands.
Our handler says we are feeding a young male who is having a hard time: on one side is a pregnant female who is battling hormones and aggression; on the other is a recently delivered mum who is battling ... hey, I'm just reporting what I was told.
In the dark, in the chill, in the water, it is a rare moment. I can't claim communion with an old, deep, primitive soul. But I have stroked cheetahs, kissed dingoes and now fed a wild dolphin. I even shared a bed with a cantankerous whippet for several years. None of them were so different under the skin. You just have to hold out your hand.


These adventures happened in one day at Tangalooma Resort on Moreton Island, which you will know by now is 75 minutes by fast catamaran from downtown Brisbane. They're only a fraction of the opportunities. There are dugongs in the bay, whale- and turtle-watching (Tangalooma began life as a whaling station from 1952-62; strike one for the good guys that it's now a national park onshore and marine park offshore), 195 species of birds and 36 types of reptiles, not to mention mammals, amphibians and bats.
Tramping paths. Fifteen ships were scuttled from 1963-84 to form the Tangalooma Wrecks, a scuba and snorkelling paradise. There's windsurfing and boardsailing and onshore, with its chalets and restaurants and kids' clubs, it's a pretty cool resort, right up there with what Fiji and Samoa have to offer.
One of our party mentioned her daughter's primary school was fundraising a fundraiser to fly to Brisbane, hit Tangalooma for a day or so, then smash the Irwins' Australia Zoo.
There are worse things than being a Kiwi schoolkid in 2013. Or a slightly more sunburned chicken-legged guy.


Ewan McDonald travelled with Emirates and Tourism & Events Queensland. Emirates provides a daily A380 service between Auckland and Brisbane. Find out more at tangalooma.com
Find out more at Australia.com