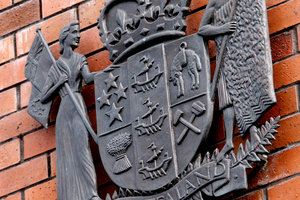 A former Wellington property developer has been sentenced at the Wellington District Court today for serial tax evasion totalling nearly $1 million.
Paul Andre Kinsman was sentenced to 12 months home detention, 275 hours of community work and ordered to pay $25,000 after earlier pleading guilty to 28 charges of tax evasion totalling more than $979,000.
Kinsman's charges included 25 of knowingly filing false GST returns, two charges of knowingly not providing GST returns, and one charge of knowingly failing to provide returns for income tax.
IRD acting group manager Graham Tubb said Kinsman was a serial tax cheat who not only used his various companies to evade paying tax from 2003 to 2009 but also failed to file personal income tax returns from 1994 to 2007.
"Kinsman's behaviour, while not sophisticated, was a continuous and deliberate effort to claim money to which he was not entitled by breaking the law.
"His companies' GST returns contained inflated and double-claimed expenses and these entities were also involved in property sales that were not returned for tax purposes."
One of Kinsman's companies, Portside Limited, entered into a purchase agreement on a property valued at $830,000 which resulted in the company receiving a GST refund of just over $92,000 in 2003, Mr Tubb said.
Six months later he claimed the purchase again and the company received the benefit of another $92,000 refund and despite the purchase not going ahead the company did not reverse the two claims and nor did it repay the money, he said.
"Inland Revenue's investigation also showed that the company claimed expenses with no supporting invoices, or using invoices issued to two different companies, NZ Industrial Holdings Limited and Sun Valley Developments Limited - both of which were controlled by Kinsman.
"This pattern of offending continued in regard to his dealings through Sun Valley and Kinsman used that company to claim invoices that had previously been issued to Portside to claim false refunds.
"His actions also included failing to return GST on a number of properties that another of his companies, Brentwood Park Developments Limited, sold and received settlement on in 2008, not file a return for the sale of a property through Waingawa Limited in 2009, and the evasion of personal income tax of $197,640."
Kinsman was convicted in 2003 in relation to not registering another company as an employer and accounting to Inland Revenue for PAYE and Student Loan repayment deductions made from an employee's wages, Mr Tubb said.
"Kinsman is a repeat offender and he was fully aware of the tax rules and his tax obligations."
Due to his illegal activity, more than $705,000 of taxpayers' money was still outstanding, Mr Tubb said.