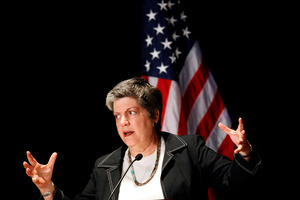 A visit by a United States Coast Guard vessel to New Zealand is not the agenda, US Homeland Security Secretary Janet Napolitano said in Wellington yesterday.
Prime Minister John Key conveyed an invitation when visiting Washington last year but she said told the Herald it hadn't been considered.
"We have a lot of things going on but we haven't discussed the Coast Guard actually coming into New Zealand. It's really just not on the agenda."
The United States was working practically with New Zealand in many ways on maritime security, fisheries security, emergency response, travel, transnational crime, and Customs.
Mr Key and the previous Labour Government regarded a Coast Guard visit as a possible compromise to the US continuing ban on naval vessels entering New Zealand ports.
But the US has taken other symbolic and practical measures to demonstrate a new era of co-operation, including the Wellington Declaration of 2010, a resumption of military combat training which had been banned, and a visit next month of a group of marines to mark their contribution to New Zealand's defence in the Second World War.
Ms Napolitano is the highest ranking of President Barack Obama's cabinet minister's to visit New Zealand since Secretary of State Hillary Clinton signed the Wellington Declaration in 2010.
As well as being responsible for the Coast Guard, she has responsibility for Immigration, the Federal Emergency Management Agency, the Secret Service and cyber security.
She was before a Senate committee last week answering questions about the Service's use of prostitutes by the Secret Service's exploits in Colombia last month while on a visit with President Obama.
She would not discuss the issue of the Chinese company Huawei which Australia and the US have banned from bidding for particular contracts citing cyber security reasons.
New Zealand is using the company for its roll-out of broadband.
Her department has started a campaign to promote aware for ordinary internet users of the potential dangers of the internet.
"It is a system that is continually being used now as a mode of attack," she said.
"We all have a vested interest in a free and open internet. It is a huge advancement in the global economy and in the supply of knowledge around the world.
"There is a dark side. It means everybody assuming some responsibility because everybody who gets on it is potentially an actor in an attack or a victim of an attack."
Asked if she would be raising with the Government the case of Kim Dotcom whom the United States is attempting to extradite from New Zealand on criminal copyright charges, she said "I dont think so."
"That is in the judicial process now and it's not my practice to comment on something once it's in that process."
Ms Napolitano signed a statement of intent yesterday with Customs Minister Maurice Williamson and Immigration Minister Nathan Guy this morning to work more closely against people tracking, improving border security and stop transnational crime.
Mr Williamson said that the Smartgate system - allowing a fastrack through passport control - was under discussion with a view to expanding it beyond Australian and New Zealand passport holders to trusted United States travellers.