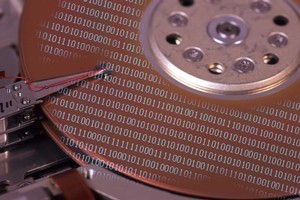 If data is the currency of the digital age, then hard drives are the high-tech equivalent of a piggy bank in that they're where we store our valuable data.
The trouble is that the amount we're creating and consuming is growing at an explosive rate and the digital equivalent of the piggy bank is in danger of filling up far beyond its intended capacity.
Unsurprisingly, demand for ever-larger hard drives is massive, which means that increasing the amount of data able to be stored on a hard disk presents some pretty unique challenges to engineers as they struggle to achieve the Tardis-like feat of cramming more and more data onto a surface with a fixed and finite size.
The science of stuffing bits and bytes onto magnetic storage media thankfully took a massive leap forwards this week after IBM announced they'd managed to reduce the number of atoms required to store a single bit of data down from one million to a mere 12.
The significance of this breakthrough may not be readily apparent, but someday in the near future it could see gadgets being able to store improbably large amounts of data compared to the current crop of hard disk and flash drives already in use.
Today's hard drives use ferromagnetic materials where the spin of individual atoms is aligned so they all spin in the same direction. Using some counterintuitive and out of the box thinking, the boffins at IBM opted for a different form of magnetism - called antiferromagnetism, where all the atoms spin in opposite directions.
This means that the atoms don't need to be kept apart and instead pull together, taking up far less space, thus allowing more data to be stored.
IBM used iron atoms on copper nitrate to work this magical feat of data storage, and even better still, it is theoretically possible that yet untried combinations of materials could require even fewer atoms to store a bit of data.
To make this all happen, IBMs researchers used the tip of a complex bit of machinery called a scanning tunnelling microscope to switch magnetic information of individual atoms. After much tinkering, IBM's researchers were able to eventually store one bit of data reliably using just 12 atoms.
On a traditional hard drive, there is typically about one million atoms used to store each individual bit of data. Dropping that number down to 12 means there is huge amount of unused headroom which should also mean that there is scope to vastly increase the amounts of data able to be stored in the future.
As amazing as this breakthrough sounds, it is all still very theoretical. Getting it to work in real world gizmos outside of IBM's labs is likely to take time, with estimates varying from anywhere between 5 and 10 years. Either way I still cant wait for my 100TB iPod shuffle in 2022.