With limited kicking in what amounted to a festival match, Benji Marshall was left to pass or run.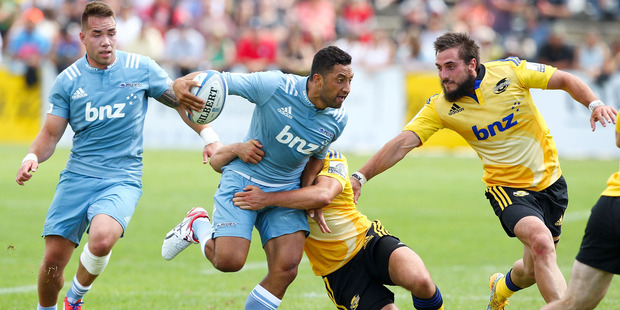 Hurricanes 38
Blues 35
Benji-mania might be sweeping the Blues' fanbase but there were few clues as to which of the three options at first five-eighths will make it to the Super Rugby start line later this month.
While Benji Marshall's Blues debut was keenly anticipated and enjoyed, it was arguably another convert from league - Matt McGahan, former Melbourne Storm squad member and son of former Kiwi captain (and Herald on Sunday columnist) Hugh McGahan - who did the better in an unscheduled effort at first-five.
Marshall (40 minutes), Baden Kerr (approximately 15 minutes until he came off with a head knock), and McGahan (25 minutes) all featured at pivot in a loss which galvanised the Wairarapa rugby community at a sold-out Memorial Park.
Marshall's talent is well-documented, as 201 NRL matches and 25 league test caps attest. However, he will face significant competition from Kerr and McGahan (who as a signatory to North Harbour is part of the apprenticeship programme rather than the official squad) on yesterday's evidence.
Another option, Chris Noakes, did not play as he continues to recover from a serious neck injury.
Marshall is seen by coach Sir John Kirwan as a first-five. He has not trained at fullback, a position suggested as an option pre-season.
With limited kicking in what amounted to a festival match, Marshall was left to pass or run. He generally chose the former. A number of his cut-out pass efforts were floated beautifully but his backline colleagues sometimes looked flat-footed when they received them. Marshall didn't often run so it left a one-dimensional impression.
One reason might have been an early encounter with Hurricanes openside flanker Ardie Savea whose tackle raised a Wairarapa roar.
In fairness, Marshall didn't see a lot of ball and was getting his bearings. It is early days for a player who, by his own calculations, last played "over 10 years ago". He set left wing Tevita Li free for one try which deserved credit.
It was a shame Kerr took a head knock. It looked like Counties-Manukau's stint with the Ranfurly Shield has given him more confidence directing. He controlled his options well, hit the line hard, passed smoothly and appeared a more willing tackler than Marshall.
McGahan added to the conundrum by arguably offering the most direction of the trio. He chirped incessantly with players inside and outside him, was light on his feet and looked useful in attack and defence.
Kirwan said Marshall could be proud of his first match: "The most positive thing was how he came around the corner [of the rucks and mauls] flat and hard at the line. He had a go.
"He implemented the game plan well and I think it's important to mention he didn't try too hard. The only concern was when he went into contact a couple of times."
A move to fullback is not an option for now: "I thought about him there but he hasn't got time to master two positions," Kirwan said. "He came in at first-five and has shown good signs there, so that's how it'll be."
"It was a bit of a blur to be honest," Marshall said. "I struggled to get a feel in the first 20 minutes but in my second 20 I started to realise what it's going to take to direct the team. I didn't set the game on fire but got some control.
"When you don't have the ball, it's a tough sport but once we controlled possession it felt great."
He was still unsure on the rules and conduct at the breakdown - but who isn't?
"I hit a couple of rucks but don't think I was taking anybody out. I don't really understand the rules there yet," he laughed. "I was just guessing. The defence is also different with so much of it sliding compared to league."
Marshall was also introduced to rugby's brutality.
"Having Ardie Savea coming at me a lot of times from the inside [channel] gave me a feel for what's coming. It's daunting."