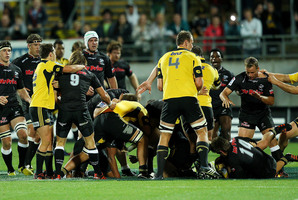 Talk about a tale of two cities, or maybe two franchises - the Hurricanes were supposed to be cellar dwellers this year and the Blues the high flyers but those roles have been well and truly reversed.
The Hurricanes' big win over the Sharks was impressive and you had to reflect after that game that coach Mark Hammett has got them focused, enjoying their rugby and, most importantly, players are standing up to be counted.
There aren't many in the Blues standing up or standing out.
The Canes had all those well-publicised problems last year but Conrad Smith's leadership has been damn near inspirational; senior players like Jason Eaton have stood up and Hammett has made some good selections like shifting Andre Taylor to fullback from wing.
Then there are other players like second five Tim Bateman and winger Julian Savea - both with a bit of experience who are also standing up this year.
I was one of those who thought they'd struggle because of their young front row - and they have already lost a couple to injury. But they keep on keeping on and, if they can get even near parity at set piece and breakdowns, they are a team that seems able to control matters.
Into that environment has come young players like first five Beauden Barrett and halfback TJ Perenara - and they are slotting into a team of players who are standing up. That is enabling them to play their games and look like they have been there for a long time.
Maybe the loose forwards and the locks best typify the spirit in the Canes right now. Victor Vito has starred in previous games but, for the match against the Sharks, Faifili Levave stood up and performed strongly and Karl Lowe did some great work on the ground.
At lock, Eaton is continuing his revival and Jeremy Thrush - supposedly one of the elder statesmen in this team at the beginning of the season - is coming off the bench and struggling to get in the side; it's a competitive situation bringing the best out of people.
Compare that to the Blues, who have been awful this season and their loss to the Rebels just continued the trend. There were dropped passes, poor passes, turnovers, wonky lineouts and generally, I think, a lack of belief in this side. The only thing that worked well for them was the scrum with Tony Woodcock back.
It's never easy putting your finger on the reasons why a team that promises so much is playing so poorly.
Yes, it's down to the players on the pitch but they have some drastic problems that go past that. I think their confidence is at rock bottom and it's seen in the number of mistakes they make every match.
Ali Williams, Keven Mealamu, Woodcock, Charlie Faumuina and Chris Lowrey - not to mention new flanker Dan Pryor who looked pretty good - are the basis of a damned good side.
Then you have a halfback keeping out the All Black halfback, a first five-eighths who was a star of the under-20s national team and the world's best second five-eighths in Ma'a Nonu, Rene Ranger and Rudi Wulf - and they are still not sparking.
When you look at the personnel, it's not a bad side but what they are doing on the field ... well, I think that comes back to coach Pat Lam.
He has been at the Blues for some time now; ample time for all of us to expect more than we are seeing this year.
You can make all the excuses in the world but it seems to me that he hasn't got his selections quite right and execution has been a big problem - he just doesn't seem to be able to get it out of what is still a talented bunch of guys.
Compare that with Jamie Joseph at the Highlanders. We all thought he did well with what he had last year and he has gone on from there this season. Lam has been at the Blues a lot longer but hasn't made the same kind of progress.