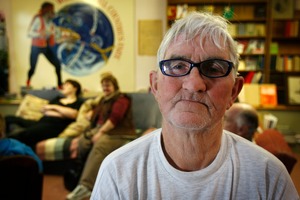 An elderly man was knocked unconscious in a confrontation between police and opponents of a controversial Housing New Zealand redevelopment project in east Auckland, protesters say.
Socialist Aotearoa said 30 police officers forcefully broke up a group of about 100 protesters opposing the removal of an empty state house in Glen Innes last night.
Veteran activist Jimmy O'Dea, 76, was taken to hospital after being knocked unconscious during the police action, the group said.
An Auckland DHB spokeswoman said Mr O'Dea was discharged early today.
Four other protesters, including Mana Party candidate John Minto, were arrested, according to Socialist Aotearoa.
A police spokeswoman did not return calls today.
HNZ plans to redevelop 156 state homes in Glen Innes over the next three to five years, despite strong opposition.
- HERALD ONLINE