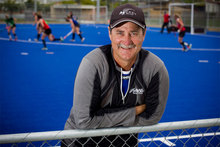 In an age when scientists, nutritionists and psychologists are commonplace in sport, the New Zealand women's hockey side have turned to another peculiar profession to aid their Olympic dream.
As part of their preparation for London, the Black Sticks hired a sleep therapist to tell them when to sleep, for how long and what time to set the alarm.
It may look like a case of micro-management taken to bizarre new levels, but the team's Olympic programme, featuring two 8.30am game times, has rendered the new employee a necessity.
Under the direction of the therapist, the Black Sticks are simulating their schedule in London - waking at 5.30am and hitting the turf near dawn before settling in for a siesta after lunch.
"Even though the girls don't like it, they're going to have to become morning people pretty quickly," New Zealand coach Mark Hager said. "I've never had this sort of thing in my playing career or even in my coaching career with the two Olympics I've been to. Not these sort of time-frames - we normally played in the evenings or in the afternoons.
"They're the cards we've been dealt with, we just have to get on with it and handle it."
It was very nearly worse. The Black Sticks were originally scheduled to play three games at breakfast time but a protest from Hager's former team provided some respite.
The Australian men's side were also handed three early games but clearly didn't share Hager's unperturbed attitude, successfully lobbying the International Hockey Federation for an amendment to the timetable.
That also caused a revision in the Black Sticks' draw, which is complicated further by a solitary 9.15pm kick-off.
It might seem as though the side were dealt a rough hand, and it certainly added to what was already a difficult task to reach the medal round, but Hager chose to see the bright side.
"We're looking at it as a positive for us versus a negative," he said. "We're going to be used to [morning starts] so hopefully it will work in our favour. And we'll be primetime TV back in New Zealand, so that's a plus."
Black Sticks striker Krystal Forgesson struggled to recall previously playing hockey at such an early hour, let alone keeping to such an irregular sleep cycle, so she was looking forward to the assistance of the newest member of staff.
"We've spoken to a sleep therapist, so we've had some information from them and they've pretty much planned when we should sleep and when we should nap and when we should wake up," she said. "We're going to try to follow that and see how it works for everyone."
Another aid will come in pill form, with melatonin - a medicine used to adjust the body's internal clock - taking its place in the players' gearbags alongside more traditional supplements like energy drinks and halftime oranges.
Sleeping pills were off the menu, though. "Otherwise it's too hard to get going again the next day," Forgesson said.
It's essential the Black Sticks feel no fatigue, considering they're competing with hockey heavyweights Argentina and Germany for a spot in the final four.
First up for the Black Sticks is the country of Hager's birth, a match he was relishing.
"We're the first game of the Olympic tournament. We play Aussie, which we're looking forward to. We've had some good contests with them so it should be an exciting first game for us straight up at 8.30am.
"Back here you will be enjoying the evening and we'll be up at 5.30am preparing for that game."
- APNZ
By Kris Shannon

Email

Kris