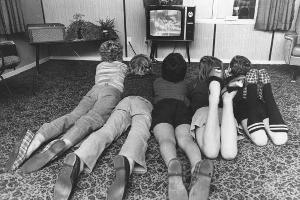 Young children should not watch any television because it sets them up for obesity and poor academic performance at school, say experts commenting on a new study.
The 13-year-long Canadian study, reported yesterday, reflects findings first established in New Zealand confirming the dangers of screen-watching by young children.
Some New Zealand paediatricians say under-2s should watch no screen-based media at all and that older children should be limited to a maximum of two hours a day.
The Canadian study tracking the progress of pre-school children found that the more television they watched when aged 2, the worse they were at mathematics, the more junk food they ate and the more they were bullied by other pupils.
Published in the Archives of Pediatrics & Adolescent Medicine, the study followed 1314 children born in Quebec in 1997 and 1998.
Parents reported their kids' TV-watching at ages 29 months and 53 months, and teachers evaluated their academic, psycho-social and health progress at age 10. On average, the 2-year-olds watched 8.8 hours a week and the 4-year-olds 14.8 hours.
For every extra hour of TV the 2-year-olds watched, there was a 6 per cent decrease in maths achievement, a 7 per cent decrease in classroom engagement and a 10 per cent increase in "victimisation" by peers, such as teasing, rejection and assault.
Each extra hour also corresponded with 9 per cent less exercise, consumption of 10 per cent more snacks and a 5 per cent rise in body mass index.
Researchers said that pre-school was a critical time for brain development and that TV watching displaced time that could be spent engaging in "developmentally enriching tasks".
The New Zealand research is based on 1037 people born in 1972 or 1973 and followed through to adulthood by Otago University.
It has found links between watching too much TV in childhood and later problems, including obesity, high cholesterol, poor fitness, smoking, short attention span, poor concentration - and lower rates of school and university qualifications.
One of the researchers, Dr Bob Hancox, said the educational effects of television viewing could not be explained by intelligence or socio-economic factors.
"It's not just that children with little natural ability decided to watch more television. Children of all levels of intelligence did worse if they watched a lot of television.
"Similarly, the association between watching television and poor achievement was not because heavy television viewers had poor socio-economic backgrounds.
"There is extraordinarily strong evidence now that [screen] media have a major impact on children and adolescents. It's not surprising because they spend many hours a day with media, of which television is the most important."
The lead author of the Canadian study, Dr Linda Pagani, of Montreal University, said: "Although we expected the impact of early TV viewing to disappear after 7 years of childhood, the fact that negative outcomes remained is quite daunting.
"Our findings make a compelling public health argument against excessive viewing in early childhood, and for parents to heed guidelines on TV exposure from the American Academy of Paediatrics [no TV for children under 2]."
Several studies have indicated that television harms educational and social development.

Setting Limits:
* US paediatricians advise that under-2s should not watch any television and that older children should view no more than two hours a day.
* France has banned shows aimed at under-3s.
* Australia recommends that 3- to-5-year-olds watch no more than an hour a day.
* There are no formal guidelines on limits to children's television-watching, but researchers and physicians here endorse the recommendations from the United States.
- additional reporting: Independent