The new miracle cure for smoking is not a drug or inhaler - it's competition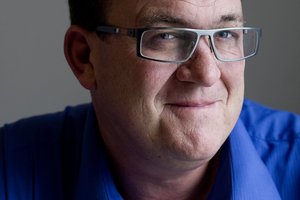 Listeners on Sean Plunket's nationwide talkback show can't have missed the growl in his voice for the past couple of weeks. Plunket, 48, is a smoker, and smoking makes you sick, and his voice sounded throaty and painful on air.
He could have taken a few days off work - but he went one better. Plunket says he has quit smoking.
The broadcaster has had a legion of reasons to quit smoking over the years. Fathering a son, Joseph. Ill health. Watching his dad, renowned newspaper and radio journalist Pat Plunket, die of cancer that started in his tobacco-ravaged lungs.
But the final straw was last week's Wellington earthquake.
He was lunching at Dockside restaurant on the city's waterfront, at the time. Afterwards, he went outside to report in to work by phone, and there was a young woman standing there. She was nervous, shaking like a leaf, dragging on a cigarette.
"I walked up to her, and she was obviously just completely freaked out, and I said, 'can I bludge a cigarette?' I had a cigarette with her and we just talked.
My nerves were a little shattered as well."
He bludged another off her, then the night went on and he didn't buy any. He had a good evening - and halfway through it, he realised he didn't need another cigarette.
"I just know, for the first time, deep in me, that I do not want to be a smoker any more - and that is entirely my choice."
The final straw differs for each smoker who quits. For some, it is the embarrassment of looking and smelling bad. For others, the debilitating expense, $18 a day, $120 a week, $6000 a year. For many, it is a devastating health collapse or the realisation that they may not see their children grow up.
Now, there is another reason. Don't laugh. But quitting could - almost - be fun.
Quitting smoking is a numbers game. About 18 per cent of adult New Zealanders smoke, and they use more than 1.5 million kilos of tobacco every year. Most smokers puff between six and 20 cigarettes a day, and will save more than $4000 a year by quitting.
But the bad news is that it will take them, on average, 14 attempts before they succeed in giving up.
So why not embrace the numbers? The Herald on Sunday is encouraging hundreds of Kiwis to join a gameshow-style quit-smoking contest in which they compete in teams to quit over the next three months.
If you have friends or family who smoke, you can encourage them to join this week before the competition starts next Sunday.
The teams will compete to stay off the baccy every week, and we'll tally up how much they're saving on cigarettes every week.
The contest organisers at the University of Auckland, Wero (www.wero.me), will donate $5000 to the winning team's charity of choice.
Such competitions have been proven to be effective. Two out of three participants will succeed in quitting in the short term, and up to 20 per cent will be clean a year later.
That may not sound high - but as most smokers will discover, going it alone is far harder.
For Sean Plunket, smoking has been part of his life for as long as he remembers. When he was 6, he would go down to the petrol station in Plimmerton to pick up a pack of Pall Mall plains for his dad.
"I've been a smoker since I was 16 or something. I've had a month or two when I have given up, but not seriously," he says.
"I would have a cigarette, probably at about 8.30 in the morning at work, before I went on air. 10 o'clock news, 11 o'clock news, I'd go and have a cigarette. So what I've done for the past week, I take my black labrador Pax to work every day, and we go out for a quick five-minute stroll around the block in the news breaks, instead of having a cigarette.
"I am not going to rule out having the odd fag with a glass of wine. And people might say that's mad. I'm not going to make this my new religion.
"I do not want to become a rabid ex-smoker - but I do not want to be an addict any more."