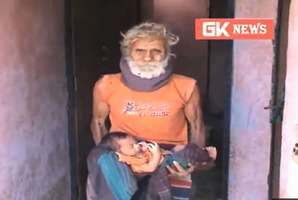 The world's oldest father has been recruited by activists in India who maintain lifelong vegetarians retain their vigour better than meat-eaters.
Ramajit Raghav, who became famous two years ago at the age of 94 when he first became a father, features in a campaign by People for the Ethical Treatment of Animals (Peta) India.
A photograph of Raghav, who recently fathered his second child, Ranjit, at the age of 96, shows him cradling the baby with the headline Vegetarians Still Got It at Age 96.
"I have been a vegetarian all my life, and I credit my stamina and virility to my diet," said Raghav from the state of Haryana.
"Being a vegetarian is the secret to my strength and good health."
Peta claims living a vegetarian life makes perfect sense and that India is increasingly seeing problems associated with heart disease, cancer and diabetes, which it says are associated with a meat-eating diet.
And since each vegetarian saves the lives of more than 100 animals a year, their consciences are lighter, too, it said.
"Viagra and other anti-impotence drugs may get you through the night, but a vegetarian diet can get you through your life."
- Independent