There's more to running than training, as Diana Clement discovers at a clinic to improve style.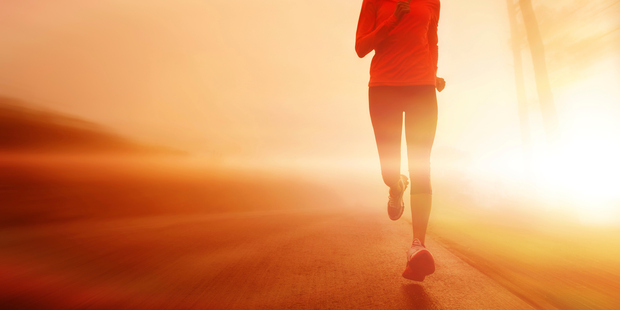 There's hope for this superplodder yet. I've got a new secret weapon in my running training, which I expect to shave valuable minutes off my Adidas Auckland Half Marathon time this year.
My 2012 innovation, apart from actually doing it, is to join a running techniques clinic.
The fact is that most runners have awful technique and waste a lot of energy making common mistakes, says running and triathlon coach Bevan McKinnon, of fitter.co.nz. Though most people remember learning to swim or cycle, they don't remember learning to run.
As a result, there are thousands or even millions of different running styles out on the streets. Watch an Olympic event involving running, however, and you'll see almost identical styles from the athletes. They have all learned to run with the most efficient style possible.
Our group's first session started with an explanation of the common biomechanical mistakes self-taught runners are guilty of. They are:
* To believe it's more economical to keep their feet close to the ground, which results in shuffling; and
* Running bolt upright, with the foot striking in front of the hip, which works like a natural break mechanism. McKinnon showed us how his body propelled frontward by leaning forward. His leg pulled through more easily when he kicked his heels up. There is, of course, more to running style than that, but it was the starting point for our new selves.
From there it was a series of exaggerated exercises and drills to encourage our bodies to get used to the new style. We practised butt kicks, running with knees high, running at speed with our hands behind our heads to reduce swing, and driving our knees through more rapidly to increase cadence. A better running style also translates into fewer injuries, says McKinnon.
Truth be known, I turned up at my first session feeling a fraud, having had my arm twisted to make up the numbers. I was under the impression that improving my run times was just a matter of doing more training. I now believe that style can make a huge difference. Four weeks on and I'm running more economically, meaning that pounding the streets isn't the killer it once was.
However, putting the new style into action isn't easy. On a good day I think of running tall, kicking my heels up and driving through. Sometimes, however, I revert to the old-style plod.
Not getting it right every time doesn't matter, says McKinnon. If, in a typical 5km run involving 6000 steps, I manage to get 1000 of them right, I've saved a certain amount of energy and made the training less agonising. Over time, my body will become accustomed to the new style. Four one-hour sessions aren't going to perfect my style and I've signed up for round two. I've also taken away some of McKinnon's suggestions for my own personal training.
The man, who clearly doesn't want to be on my Christmas card list, reckons I run like someone who does a sedentary job. My ongoing training will need to include gym work to strengthening my gluteal muscles, he says. This will help me run "taller". The other advice was to do more short bursts in my training, to get used to pulling my legs through fast.
The theory dovetails with my personal experience. Back in the good old days when I could run a half-marathon in 1 hour 40 minutes, weight training was an integral part of my weekly routine. These days, the glutes spend most of their life relaxing on a computer chair.
There isn't a vast array of options for people who want to improve their running style through a course or clinic. Fitter.co.nz will organise technique sessions for private groups like mine, or on a one-to-one basis.
From time to time CrossFit Auckland runs Pose Running Clinics, developed by Russian sport scientist Nicolas Romanov. There are also technique sessions at the Shoe Clinic in Ponsonby, the Northern Arena, and Get Running in Takapuna.
Websites
* Crossfitauckland.com/programmes/pose-running-clinic