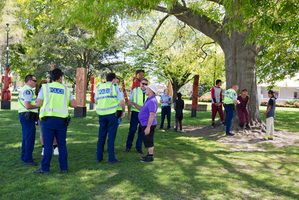 The youth brawl that broke out among pou carvings in central Hastings this week once again highlighted a social issue that needs fixing, but some good has come out of it.
Teenagers with gang associations started fighting in Civic Square on Wednesday among the pou, which represent different marae. While it was a terrible situation, there are some positives.
Firstly, the new council initiative - City Assist ambassadors - worked. A City Assist team was first on the scene and alerted police to the incident. The second good thing is that police responded in force - more than 15 officers attended - thus preventing the incident getting totally out of hand.
Thirdly, Ngati Kahungunu Iwi Inc chairman Ngahiwi Tomoana issued a strong statement condemning the fighting and making it clear that it was unacceptable. He said it was disrespectful for the youths to fight among the pou.
An ugly incident occurred, as they do, but it was the response that made all the difference.
The community is standing together and tackling this problem.
I attended a public meeting a while back that Hastings Mayor Lawrence Yule called in response to a front page story we ran about the problem of youths in the CBD. Retailers there were cynical that councillors were responding only because it is an election year.
The main thing is that they are responding. I think the council and the police need to be congratulated for listening to the community and dealing with the problem. Mr Tomoana's condemnation of the fighting was important as well, as the iwi does have some influence in the community.
It just shows that if we all work together, we can solve this problem.