Taradale streets were lined with spectators on Saturday as they watched the neighbourhood "landmark" come down.
While some came and went, arborist Justin Jacobs said he guessed 50 people remained on Ngarimu Cres throughout the day-long process of removing its 140-year-old redwood tree.
"People are always watching us work, they get quite fascinated," Mr Jacobs said.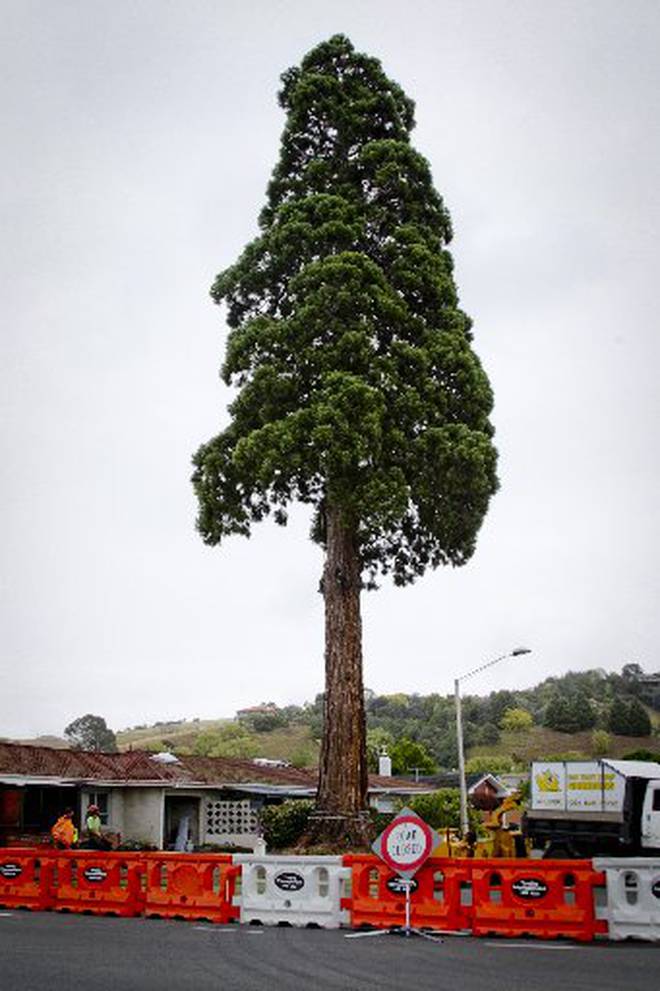 Hoisted up the tree, he divided it into seven sections - four at the top with branches and three along the 15m trunk section. The biggest section weighed 9 tonnes, which put the crane lifting the sections "just about at its limit".
Mr Jacobs said: "For us to be able to undertake a job in such a highly populated area - I'm only as good in my part of the process as the guys I've got on the ground."
Mr Jacobs said removing trees as old as the redwood was always an inspiring experience.
"The tree had come to a point where it was no longer safe ... We try and remove it with as much dignity as possible."
Local resident Sonya Ferguson said there was a big crowd on Ngarimu Cres and nearby Church Rd was "chocka".
Spectators came prepared with deck chairs, including Ms Ferguson's son Javier, 5, who watched the operation while eating his breakfast.
Ms Ferguson said there had been a lot of mixed emotions amongst residents.
"[The street] looks naked now ... It was a landmark of Taradale, when people were coming over we used to say, 'Just look for the big tree.'
"It's sad but for the residents who live so close it was a mess, and there were sewage and foundation issues."
Large parts of the tree still remained on site, with some residents taking small parts of it as souvenirs.
Although others had displayed an interest in keeping bigger sections, Mr Jacobs said the wood would be taken as part payment with the smaller sections heading to the mill.
The stump still remained but would soon be "ground out completely" by East Coast Stump Grinders.