Today marks the 100th anniversary of the 1914 declaration of war. The son of a then-teenaged fighter pilot from Ocean Beach talks about his father's proud legacy and what the centenary means to him. Roger Moroney chats with him.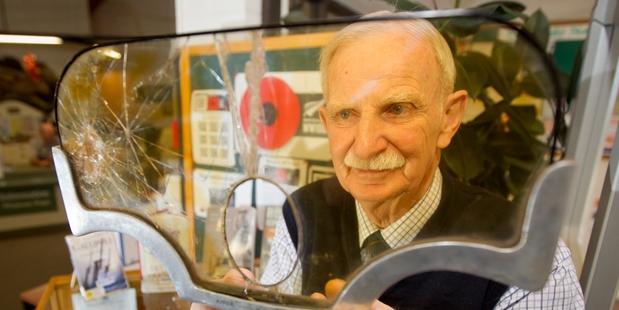 Nearly 100 years ago a Hawke's Bay teenager embarked on an overseas adventure which clearly held some concerns for his parents.
They boarded the ship to England and went with him.
Eighteen-year-old Michael Scott Campbell Gordon left the peace of the family spread at Ocean Beach and went off to war.
His arm of the service was a volatile and especially dangerous one as aviation, especially at combat level, was in its infancy.
In tribute to his father's devotion to King and country (and one of his commissions was later signed by King George V) his son Michael has loaned several colourful and remarkable items from Flight Lieutenant Gordon's war in the air to the Havelock North Library for display.
It is being staged exactly a century after the outbreak of WWI, and as Mr Gordon explained, his father was eager to go.
"He joined up as soon as he left school and went off and did a few flying hours at Wigram then off he went."
The teenager completed his flying training in England with the Royal Air Force and Royal Flying Corps in 1916 before being sent across the English Channel and deep into France where he was stationed near Ypres.
"He flew several different aircraft and did all sorts of things," Mr Gordon said.
When not involved in immediate combat Flight Lieutenant Gordon would carry out front-line battlefield surveillance - "taking photos of the shelling".
He flew with 70 Squadron, and on one occasion came under fire from enemy gunners.
Part of the display is the windscreen of that aircraft - including the bullet holes.
There are also many photos, his log book, medals, dog tag and a small lucky charm in the form of a little silk doll which he wore inside his flying helmet. Mr Gordon said he was proud of his father's duty, and thankful he was able to return home safely to get married in 1922 and start a family, and continue to work the family station.
"I think it is important to keep and look after things like this because it is history - and that is important." World War I was officially declared on this day, August 4.
Returned Services Association national president Don McIver said few New Zealanders would have imagined the magnitude of the trauma to come, or the lasting impact it would have on the country. More than 100,000 New Zealand men and women served overseas during the war - with many believing they were about to embark on a great adventure and that they would be home by Christmas.
"Four years later, by the close of the war, more than 18,000 New Zealanders had fallen and we had lost five per cent of our men of military age," Mr McIvor said.
While several RSAs across the country had planned events today, the Napier and Hastings RSAs had not. Hastings RSA spokesman John Stables said its focus would be on the 100th anniversary of Gallipoli next April - an event he said was the prime moment of nationhood for Kiwis.
"We do not believe in glorifying the start of a war - we celebrate the end of war."
Apart from the lowering of flags there were no formal commemorations planned in Napier, with RSA chief executive officer Craig Williams saying their focus too would be on Gallipoli commemorations next year.