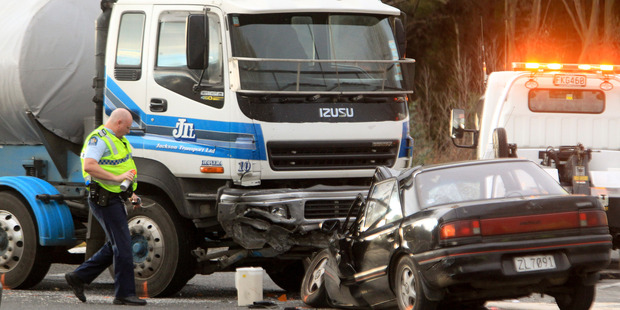 A 1-year-old baby and two other family members were lucky to escape serious injury after their car collided head on with a truck in Pakipaki.
The driver, a 27-year-old mother, is in a serious condition in Hawke's Bay Hospital, while her 1-year-old and 8-year-old daughter are stable, following the crash that happened about 4pm yesterday.
Senior Sergeant Greg Brown said the car was travelling towards Hastings on SH 2 when it was involved in a collision with the truck at the Pakipaki Rd and SH 2 intersection.
It was believed that the tallow truck had pulled out in front of the car.
The woman's 8-year-old daughter was in the front passenger seat and the 1-year-old in a carseat in the back.
St John Hawke's Bay district operations manager Stephen Smith said the woman received moderate head and abdominal injuries.
The 8-year-old had received moderate head and chest injuries and the baby received minor injuries, Mr Smith said.
The truck driver was not injured.
When Hawke's Bay Today arrived at the crash scene, SH 2's northbound lane was closed.
The woman's car was a wreck in the middle of the northbound lane, while the front of the tallow truck had superficial damage.
The baby, who showed no obvious signs of having been hurt, was still sitting in the carseat and was transferred to an ambulance.
Two crews from the Hastings Fire Station attended.
Hastings Fire Brigade senior station officer Bruno Saathof said no one needed to be cut free from the car but the damage done to it had been "extensive".
The family was taken to Hawke's Bay Hospital in two ambulances.
A hospital spokeswoman said last night the woman was in a serious condition and each child was in a stable condition.
Senior Sergeant Nick Dobson said it was extremely fortunate that the baby had been strapped into a carseat.
"This was clearly an example where the carseat saved the child from serious injury," Mr Dobson said.
Yesterday's smash had also highlighted the dangers associated with drivers making turns with their vehicles on state highways, he said.
"Any turns on a state highway, you have to be really careful, because of the speed people travel.
"People need to be extra cautious when making turns on a state highway," he said.
Pakipaki Rd resident Richard Kettle said the spot where the crash had occurred was "a nasty intersection".
While there was a stop sign where Te Aute Rd met SH 2, motorists had to adhere to give-way rules where Pakipaki Rd met the highway.
Mr Kettle said a stop sign should be installed on the other side of the highway.